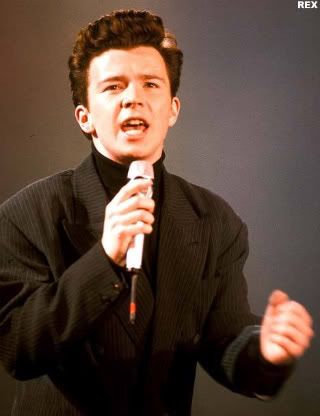 Eighties pop-star Rick Astley, most recently known for the Internet phenomenon of Rickrolling, has has been slowly coming out of his self-induced exile for the past 20 years, he is currently on tour in Europe, mentioned recently in an interview with The London Times that he may have plans to break into the film industry.

Astley, whom is married to movie producer Lene Bausager has apparently developed an infatuation with movie scripts of late and thought he would give writing his own a try, "My wife's now a movie producer so I read a lot of scripts and I'm really passionate about films. One day I thought, 'Well, why don't I write one?' And it turned into a musical — but not for the stage. It's dominated by the songs I've written — they tell the stories — so I hooked up with a guy in California and we wrote the script together. We're at the point of speaking to a few different agents and getting people to read.

Keeping in line with his humble demeanor, Astley is keeping expectations for his screenwriting career in check, "I'm not fooling myself — nothing may come of it and I totally understand that, but as a process I have loved it. When you're writing frothy pop songs the lyrics can be a bit 'whatever', they are hooky and you just sing them because they work. But writing these songs . . ." He falters. "Do they call that a libretto?

Astley also went into a few details of the project, "The working title is 'New York Cowboy' because it's about a young guy who sets off from a small town — not Newton-le-Willows [Astley's home town], ha-ha — to go to New York."

If Astley's project ever gets a green-light, which it probably won't, we will differently be advance ordering our tickets.