The New York Times of all people have checked in on Robert Downey Jr./ Guy Ritchie's "Sherlock Holmes," and provided new quotes, insight and photos* on the project (*new to us anyhow).

We said, based on the script, it felt like it's disposable adventure-y tone felt like "Pirates of the Caribbean." Close. Producer Joel Silver (supervisor to all that is loud, fast and explosive, see "The Matrix" franchise and "Speed Racer") the project will be more like "James Bond in 1891."

Clearly this is not your dad's Sherlock Holmes. "I never agreed with the idea of the fairly stuffy Edwardian-type gentleman," project conceiver and producer Lionel Wigram said. "It wasn't my idea of Sherlock Holmes."

The Times notes that 'Holmes' is meant to be a blockbuster, but Ritchie is a bit of a risk considering he hasn't had a hit in over a decade ("Rock N Rolla" only took in a paltry $5.7 million in the United States).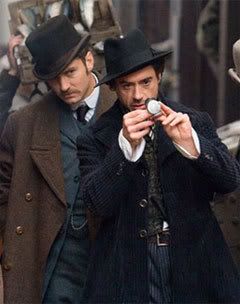 'Holmes' won't be rocket science and Silver admits this. "We thought [Guy Ritchie] had the capacity and the ability to make a big, fun movie, and what really pushed it over the top was Robert Downey Jr."

Wigram concurs noting they'll appeal to populist notions of current tentpole films. "The [Arthur Conan Doyle] tend to be fairly small, contained murder mysteries. For the big mainstream audiences these days, I knew we would have to come up with something where the stakes were bigger and that had a big fantasy element."

Sherlock Holmes in this new updated version has his own demons: booze and a predilection for booze, gambling, fighting and anomie. His character is also more poet/louche than an uptight detective and or perhaps Brian Jones from the Rolling Stones.

"He's the archetype of a tortured perfectionist," Downey told the Times of his characters before devolving into 12-step winner talk. Jude Law says his character is far from the fat and slow Watson of yore. "He's a man who left the military a few years ago and who takes a military approach to situations. He's slightly more strait-laced than Holmes but certainly no less brave... [and] certainly not stupid."

And in case you think we're exacerbating the mainstream approach to this film, the director himself Guy Ritchie says the film will be "deliberately designed so I can watch it with my family and friends without any embarrassment."

Sounds tres edgy and like the Bond of the Roger Moore era more than the Daniel Craig version unfortunately.