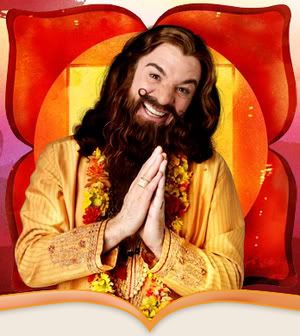 Two weeks ago, we gave you the dirt concerning the shortlist of awful performances that were being considered for the Razzies. Call us Jack Nicholson in "The Shining", because we're back with the official list of the 2008 Razzie Awards nominees, honoring the most awful performances of the previous year. Sure enough, it sucks. On a sidenote, you know that we have become a media hungry society when The Razzies deem it necessary to send out a shortlist and an official nominations list.

Uwe Boll led all nominees with 9 nominations, even landing a Worst Career Achievement award. Comedian, if you can call what he does comedy anymore, Mike Myers proved karma does exist after his film The Love Guru got 7 nods. And you knew Paris Hilton was going to suck her way to the top, it's what she has been doing for years, right? The party girl turned actress did her best Cate Blanchett gone wrong impersonation by getting three nominations, including Worst Actress (The Hottie and The Nottie) and Worst Supporting Actress (Repo: The Genetic Opera!). We were going to throw a fit over the exclusions of "Speed Racer" and "The Spirit", but then we realized that nobody truly cares about "The Razzies" They're the equivalent of a person going stag to prom just to show couples that prom is overrated. Everyone says, "yeah, great point, but you still acknowledged the event's existence. Now move the hell out of the way so we can have fun and dance."

We must admit that we are happy that M. Night Shyamalan made the list of nominees for "The Happening." There were so many reasons to hate that film. 1) The entire film consisted of Mark Wahlberg running around asking, "what's happening?" I don't know, Mark, you're in the damn film. You tell us! 2) Maybe the nominations will inspire M. Night to get back to making quality films. 3) This film is so far below the adorable Zooey Deschanel, who we can't stop gushing over. Watch "500 Days of Summer" or listen to "She & Him" and say I'm wrong.

Here's the list of the nominees. Let us know who you think is most deserving of such a forgettable honor. You can check out more information about the nominees at the official Razzies website, including their detailed explanation of reasoning for each pick that makes less sense than the BCS system in college football. Thanks to New York Magazine for the heads up.

Worst Picture:
Disaster Movie and Meet The Spartans; The Happening; The Hottie and The Nottie; In The Name of The King: A Dungeon Siege Tale; The Love Guru
Worst Actor:
Larry the Cable Guy (Witless Protection); Eddie Murphy (Meet Dave); Mike Myers (The Love Guru); Al Pacino (88 Minutes and Righteous Kill); Mark Wahlberg (The Happening and Max Payne)
Worst Actress:
The Cast of The Women (Annette Bening; Eva Mendes; Debra Messing; Jada Pinkett-Smith and Meg Ryan); Cameron Diaz (What Happens In Vegas); Paris Hilton (The Hottie And The Nottie); Kate Hudson (Fool's Gold and My Best Friend's Girl)
Worst Supporting Actor:
Uwe Boll (Uwe Boll's Postal); Pierce Brosnan (Mamma Mia!); Ben Kingsley (The Love Guru and War, IncThe Wackness); Burt Reynolds (Deal and In The Name Of The King: A Dungeon Siege Tale); Verne Troyer (The Love Guru and Uwe Boll's Postal) and
Worst Supporting Actress:
Carmen Electra (Disaster Movie and Meet The Spartans); Paris Hilton (Repo: The Genetic Opera); Kim Kardashian (Disaster Movie); Jenny McCarthy (Witless Protection); Leelee Sobieski (88 Minutes and In The Name Of The King: A Dungeon Siege Tale)
Worst Screen Couple:
Uwe Boll & ANY Actor, Camera or Screenplay; Cameron Diaz & Ashton Kutcher (What Happens In Vegas); Paris Hilton and either Christine Lakin or Joel David Moore (The Hottie & The Nottie); Larry the Cable Guy & Jenny McCarthy (Witless Protection); Eddie Murphy IN Eddie Murphy (Meet Dave)
Worst Prequel, Remake, Rip-Off or Sequel:
The Day The Earth Blowed Up Real Good; Disaster Movie and Meet The Spartans; Indiana Jones and The Kingdom of The Crystal Skull; Speed Racer; Star Wars: The Clone Wars
Worst Director:
Uwe Boll (1968: Tunnel Rats; In The Name Of The King: A Dungeon Siege Tale and Postal); Jason Friedberg & Aaron Seltzer (Disaster Movie and Meet The Spartans); Tom Putnam (The Hottie & The Nottie); Marco Schnabel (The Love Guru); M. Night Shyamalan (The Happening)
Worst Screenplay:
Disaster Movie and Meet The Spartans (both written by Jason Friedberg & Aaron Seltzer); The HappeningThe Hottie & The Nottie (written by Heidi Ferrer); In The Name Of The King: A Dungeon Siege Tale (screenplay by Doug Taylor); The Love Guru (written by Mike Myers & Graham Gordy) (written by M. Night Shyamalan);
Worst Career Achievement:
Uwe Boll