Remember that leaked "Watchmen" soundtrack we posted over the weekend? Well it was off, but it did have some similarities. My Chemical Romance's cover of Bob Dylan's "Desolation Row" (yes, heresy) is the lead track from the soundtrack and the movie and disc will feature counter-culture tracks by Simon & Garfunkle, Jimi Hendrix and Janis Joplin as director Zack Snyder suggested they would. The album comes out in multiple formats beginning March 3. Depending on how rabid a "Watchmen" fan you are you might want the soundtrack and the score by Tyler Bates ("The Devil's Rejects, "300," and "Californication"), which of which some of we've heard and it sounds like bad techno metal. Here's the deets.

The physical CD, and a digital album will be available on March 3rd

A vinyl edition of the soundtrack will be released on March 17th.
Watchmen Music Collectors Edition 7" Box Set will be released on March 24th. The box set contains 7 double-sided 7" picture discs of each Watchmen character on one side, and images in the likeness of the graphic novel on the other. The Watchmen Music Collectors Edition 7" Box Set will include My Chemical Romance's "Desolation Row," along with 13 tracks by Tyler Bates.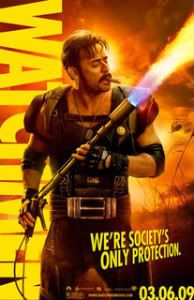 Music From The Motion Picture Watchmen Track Listing
1. Desolation Row - My Chemical Romance
2. Unforgettable - Nat King Cole
3. The Times They Are A-Changin' - Bob Dylan
4. The Sound Of Silence - Simon & Garfunkel
5. Me & Bobby McGee - Janis Joplin
6. I'm Your Boogie Man - KC & The Sunshine Band
7. You're My Thrill - Billie Holiday
8. Pruit Igoe & Prophecies - The Philip Glass Ensemble
9. Hallelujah - Leonard Cohen
10. All Along The Watchtower - Jimi Hendrix
11. Ride of the Valkyries - Budapest Symphony Orchestra
12. Pirate Jenny - Nina Simone* (* - used in the end credits of the "Tales From The Black Freighter" DVD).

Bates score disc has 21 tracks and there's little point it posting its tracklist, but it's here if you want it. Listening to some of the music on the newly launched "Watchmen" website, some of it isn't bad and some of the Rorschach-themed Vangelis-like "Blade Runner" music is pretty amusing for being a decent facsimile, but we're still worried about some of the aggro-testosterone music we've heard. Hopefully, the entire film is not like that.