Time flies when you're having fun which, as you know, means yet another movie-going weekend has arrived. "Gran Torino," which won last weekend's box, will try to hold on to the top spot against an array of uninspiring challengers. The slate of dismal releases is par for the course for this time of year, but perhaps you'll find something to pique your interest out there. So, on the docket this week:

First up is "Defiance," which opens wide this week and stars Daniel Craig, a.k.a. James Bond, as the leader of a group of three Russian Jews on the run from the Nazis during the Second World War.

Liev

Schreiber

("The Manchurian Candidate," "Everything is Illuminated") and Jamie Bell ("Billy Elliott") play Craig's brothers who join him as he seeks refuge in the thick Russian forests. Not content merely to hide from their antagonists, however, the brothers begin to carry out attacks against the Nazis pursuing them.

Helmed

by Edward

Zwick

("Glory," "Blood Diamond") the film seems to want to sell itself as a different take on WWII, showing an organized Jewish resistance to the atrocities facing them. The film looks moderately exciting and does offer a different point of view, but it currently sits at a 53% on Rotten Tomatoes right now. We didn't think it was as terrible as initially suggested, but it was probably around a B- grade for us. Apparently, much of the premise gets washed into another simple whiz-bang action flick. This weekend, though, you could do far, far worse.
Also going wide this week is "Last Chance Harvey" starring Dustin Hoffman and Emma Thompson. The film is a pretty standard romantic story focusing on Harvey, an aging jingle writer who travels to England for the wedding of his estranged daughter. While there, Harvey meets Kate (Thompson) and the two embark on a romantic relationship. The film offers a new take on an old formula, showing two people past the prime of life finding rejuvenation and redemption in each other. Thompson received a Golden Globe

nom

for her role in the picture and it seems like another solid turn for Hoffman. With a promising 71% at RT, this might be your best bet for the weekend.


Update

: We almost forgot,

Steven Soderbergh'

s two-part "

Che

" films, "

The Argentine

" and "

Guerilla

" are available in their

full

, road-show version in nine new cities that include
Boston, Chicago, Dallas, Houston, Minneapolis, Seattle, Philadelphia, San Francisco, and Washington, DC.

It's fantastic to see such an experiment open up to cities beyond New York and L.A. in this economic climate and its success so far has been a testament to cinephiles in both cities. Hopefully, the expansion will only continue. You can tell by now that this sprawling, obdurate and ambitious piece of work is something we

greatly

admire (it made our top 20 list). We've experienced the whole 4 and 1/2 hour spectacle twice now and you should at least once. It's definitely a cinephiles wet dream.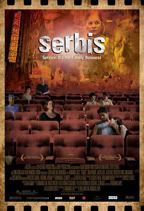 If you're lucky enough to live in a city where it will open this weekend, your best bet will probably be "

Serbis

," the Filipino film that chronicles a family-run pornographic theatre where the clientele often arrange their own sexual adventures. The movie offers a number of alternately beautiful and grotesque vignettes that chronicle the lives of each member of the family. We saw this at

NYFF

and loved it--if you're near a theatre where you can take it in, you should definitely give it a shot.


From here, things get much, much worse. First, good news/bad news time. Good news: the Irish

shoegazers

My Bloody Valentine

reunited last year and played a smattering of shows to widespread enthusiasm. The group is now talking about recording a follow up to their classic 1991 album Loveless. Bad news: the cheap Canadian horror flick from which the quartet cribbed their name has been remade in 3-D for release this weekend.

Bafflingly

, the movie has an extremely positive 83% right now, though few reviews are in. Also: if the studio insisted on releasing a horror film with the word "Valentine" in the title out of season, why the hell release it a month before Valentine's Day? Ugh. The only reason to see this load is if you're really bummed that you missed the third "Friday the 13

th

" movie in theatres.


Somehow, though, there is an even less appetizing picture out there this week. "Paul

Blart

: Mall Cop," which stars the human marshmallow Kevin James as a hapless goon who wants to become an actual policeman but is too stupid to be anything but a mall cop. There seems to be some parallel there with the actual James, a lower-level comedic talent who would love to rise to

Sandler's

strata...whatever that may be. Produced by Adam

Sandler

's Happy Madison company, it looks about as dismal and unfunny as a comedy could possibly be. Unless, of course, you'd like to see a tremendous

fatass

trying to play his

girthy

frame from laughs in a shopping center in an effort to thwart some half-

assed

terrorists.

Blech

.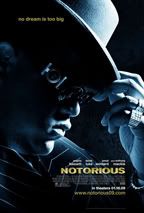 Elsewhere, hip-hop enthusiasts might find something worthwhile in the Biggie Smalls biopic "Notorious." Reviews have been middling and most critics seem to think that the picture wastes the compelling story of its subject matter. Frankly, the biopic is always a risk and this one doesn't seem to have enough wattage to outshine the formulaic nature of the genre, and we didn't care for it much it either. Speaking of formulas, there's also "Hotel for Dogs," a family movie that looks to be exactly what it sounds like and stars, regrettably, Don

Cheadle

. The 48% reviews don't do much to inspire confidence.


That's pretty much the scope of it...another slow weekend for film. Perhaps things will pick up soon?