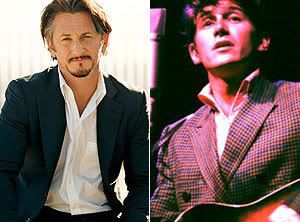 Could Sean Penn one day play '60s political protest singer, Phil Ochs?

From a throwaway line in Rolling Stone he's interested:

"Penn also expressed interest in finally making a biopic on Phil Ochs, the political folk great who committed suicide in 1976 at age 35."
Ok, it's not a lot to go on, but it is interesting, and Penn could easily make it happen and direct and star if he chose to do so, one would imagine.

Ochs came up in the same political folk era that

Bob Dyla

n did, but never turned his back on "topical songs," the way slippery Zimmerman quickly did. Though Ochs, had a sense of humor. His ironically titled

Greatest Hits

album of 1970 consisted of all new material.

The two had a friendly rivalry, but when Ochs criticized one of Dylan's songs, the singer famously threw him out of his limousine, saying, "You're not a folksinger. You're a journalist," according to the book "

There But for Fortune: The Life of Phil Ochs

." Ochs was one of the few protest folkies that didn't decry Dylan when he plugged in and went electric at Newport in 1965.

Ochs battled a number of medical issues including a bipolar disorder and alcoholism, and he took his own life in 1976.