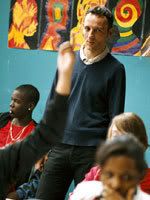 The Curious Case Of 'The Class': An International Hit, An American Failure
So what exactly happened to "The Class," Laurent Cantet's extraordinary class drama about social, racial and economic tensions in modern day French school rooms? The vibrant picture won the coveted Palme d'Or at Cannes last year, was equally lauded around the film festival circuit -- TIFF, NYFF -- and then kind of disappeared.

For one it was supposed to open in the United States on December 12 in limited release, but something happened. Apparently it was moved to a December 19 release date, but we didn't start seeing review in local New York media -- The Village Voice, Time Out New York -- until early January.

There seemed to be an awareness problem and the picture lost all North American momentum, juice and steam. Did Sony Pictures Classics fuck this one up? Does someone know the story here? "The Class" has a stellar 96% on Rotten Tomatoes, but most people are hard-pressed to even know about its existence. Internationally, the film has taken in a very respectable $22 million. And stateside? A pitiful $911,648. Yes, it's a bit of a niche foreign film with what some might argue has limited mainstream appeal, but c'mon. The film is excellent and is deserving of so much more. It is nominated in the Best Foreign Film Oscar category this weekend, but it's chances of seeing Academy gold seem slim.

Either way, that's fine. All the nominees in this category are worthy, but with a film that had all the aforementioned going for it, "The Class," feels like a missed opportunity that never got its due.