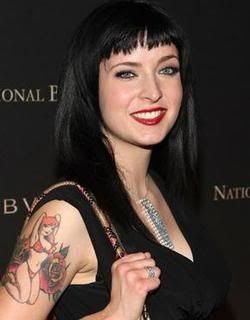 Our friends at MTV are putting together a little list of the "Greatest Movie Badasses of All Time" and they've been asking a few of our favorite movie making impresarios to send their picks in. I mean, we really do love our pals at MTV but their list so far is fairly predictable and painfully male with all the requisite dark anti-heroes and cooool tough guys, nerds love. So we highly endorse these picks by Diablo Cody and Richard Kelly.

Cody turned in a list that started with unlikely badass "Carrie" and ended with Sarah Connor of "Terminator 2" (Linda Hamilton). She throws in The Bride from the "Kill Bill" (Uma Thurman) movies and the fairly obvious Ripley from the "Alien" movies. In addition there are some off the wall choices, which is to be expected, like the mall cop from "Mannequin" (is this some bizarre reference to 'Paul Blart'?) and the Bandit from "Smokey and the Bandit." Honestly, kind of ingenious answers overall though.


We also give major props to Kelly for making Erin Brockovich his #1 badass -- a tired, overworked and pissed off mom is not to be fucked and much more realistically scary then the Predator. She would eat Arnold for breakfast. The "Donnie Darko" director gives shout outs to Patton Oswalt's character in "Ratatouille," and preggers cop Marge (Frances McDormand) in "Fargo." That's just a few among many bizarro choices that make his list absolutely fascinating.

We're so over adoration for typical anti-heroes who often come with a homoerotic bent ("300" spartans we're looking in your direction). Just remember when Lucas unveiled the prequels, Bobba Fett's lineage was revealed to come from stumblebumb retards who barely knew how to work their jetpack and got offed in their first fight scene. Wolverine has a laughable haircut and The Dark Knight freaks out on his poor mom - how tough is that? The whole genre is an obvious ploy to play to geeks who are socially disenfranchised geeks in real life with a romcom style message that every geek has a superhero inside and maybe you're really special too! You aren't.