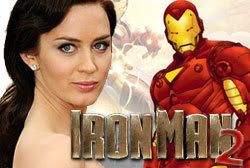 We didn't see it, but YouTube reporter similarly named Playlist reader Script Grrrl did and wrote in to us about what she saw, thanks!

"On E!'s post show at the red carpet of some party, Jon Favreau said that Fox exercised its ["Gulliver's Travellers"] option on Emily Blunt, and that she definitely won't be in 'Iron Man 2.' The reporter was chatting with Favreau and asking about what he can tell them about 'IM2.' He said Mickey Rourke isn't officially cast but that he is a fan. Then she asked about Emily and Favreau said that about Fox exercising their option, which I hadn't heard before. I thought they were still trying to make it work. He said he was disappointed but didn't say anything about Scarlett Johansson replacing her or anyone else taking the role."

There you have it, thanks SGrrl. We're sure official word will come soon, but looks like its a wrap for Blunt. There's always Eliza Dushku, right? PS, another reader confirms she saw the same thing as well. Strange that it's not up on the E! site already. You would have thought they would have ran with it already. Lost opportunity.