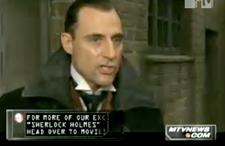 Ps, if you want to see footage of all the "Sherlock Holmes" characters in costume, including a first look at the villain Mark Strong, MTV has the goods in this clip below and detailed set report.

A lot of people have asked about Rachel McAdams' character Irene Adler who only appears in one of the original Sir Arthur Conan Doyle books and is relatively unknown to mass audiences.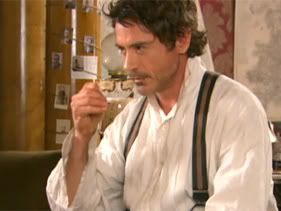 "Irene is a bit of both. She's in one story. She's in 'A Scandal in Bohemia,' and she doesn't really appear anywhere else," McAdams explained. "So it's been a mix of what Arthur Conan Doyle set out and what the writers added on. [Holmes and Irene] are quite old flames at this point. They have a bit of a history together. He was actually the witness at her wedding. She coerced him into that, unknowingly. Lovely. And this scene [that we're shooting today] is the first time they've met since that wedding, and she's no longer married. She's come back to ask for his help."

Director Guy Ritchie for one, seems pleased as punch that he had a big budget to fool around with. So much so he's still not sure what the film will look like presumably because he'll be adding a significant amount of special effects (his interview is done in front of green screen). "I don't know what it is going to end up looking like yet," Ritchie laughed. "I was attracted to the idea, because I wanted to do something that was different from what I've done previously. It was English, and I like that. And an iconic character, I like that. And [the studio] had deep pockets, and I like that. So I get to play with all the toys I can play with."

It's a good piece if you haven't read the script, so if you're looking forward to this tentpole flick. Follow the link above and read more. Bewarned Robert Downey Jr. uses the dreaded, overused and now played-out term, "bromance." Don't say we didn't warn you.