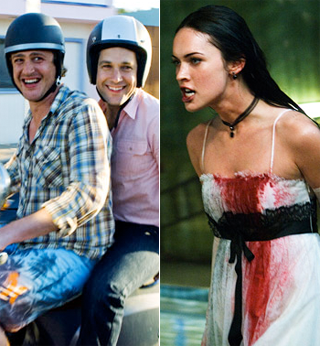 Entertainment Weekly has a bunch of exclusives first looks on a bunch of new upcoming movies.

- The Diablo Cody-penned sequel to "Juno" called, "Jennifer's Body" (September 18). It's a sarcastic teen horror comedy that's sort of like "Heather's" meets generic slasher films with female-centric snark. We read the script months ago and it's kind of a riot. Whether it turns out onscreen though remains to be seen. Megan Fox stars as a hot teenager who is demonically possessed. This is the first official still from the film. "In order to live in this new state of undead, she has to feed on human flesh,'' Fox tells EW. ''So she takes revenge on men who she secretly hated her whole life anyway.... I've always hated boys, so I identified with that very easily.'' Amanda Seyfried co-stars as her protagonist bff.

- We've already seen shots of the, *cough,* "bromance" film, "I Love You, Man" starring Judd Apatow favorites Jason Segel and Paul Rudd, but this pic is admittedly too cute to pass up. We would imagine this film was going to suck because these guy can't keep hitting them out of the park every single time (can they?), but it is R-Rated and all the clips we've seen do look pretty amusing, so maybe it'll be the entertaining comedy it aspires to be. "This is our third movie together,'' Segel said, having previously worked with Rudd on "Knocked Up" and "Forgetting Sarah Marshall." ''There's definitely a bromance that's been growing. And you know what they say about the third date...'' OK, forgive that quote and lets pretend it'll be at least funnier than "Pineapple Express" (which shouldn't be that hard).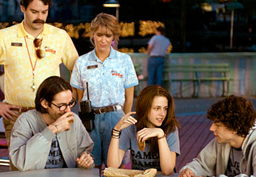 - Another film we've discussed at length and you've already seen photos of is Greg Mottola's "Adventureland" (March 22) but this photo shows most of the cast in one shot including, Bill Hader, Kristen Wiig, Jesse Eisenberg, Kristen Stewart, and Martin Starr (the missing member is Ryan Reynolds). It stars Eisenberg as a young college graduate that wants to take off to Europe before he starts adulthood with a real j.o.b., but economic circumstances ground him and instead he has to take a dead-end summer job at a local Adventureland theme park. The soundtrack looks stellar. The film takes place in the summer, but they shot it in the cold. "We had to suck on ice so our breath wouldn't fog,'' Wiig told EW.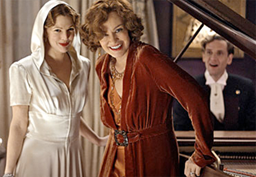 - Lastly, we get our first look at Drew Barrymore and Jessica Lange playing ''Little Edie'' and ''Big Edie'' Bouvier Beale, in "Grey Gardens." We've voiced our skepticism about this HBO film set to air in April, because of the seemingly odd casting, but the subjects of the cult Maysles brothers' 1976 cinema verite documentary "Grey Gardens" (and relatives of Jackie Kennedy) were such fascinating, strange figures there's probably no way we can resist. If you've seen "Grey Gardens" or its 2006 sequel, "The Beales of Grey Gardens," you're probably as equally fanatical about the documentaries and girls as we are and will likely need to tune in even out of morbid curiosity at the very least."It's a beautiful, intriguing love story,'' Barrymore said of the mother and daughter who became odd recluses and shut-ins in their dilapidated East Hampton mansion (their squalid living conditions were the subject of an infamous 1972 New York Magazine cover story). If you've never seen these documentaries (which are available on the Criterion Collection), run, don't walk.