It's completely possible that Francis Ford Coppola is a total tyrant and or a major prick, but based on every interview we've seen with him all our lives, we have this fairy tale image of him as a very compassionate and caring avuncular figure. So we have sort of nightmare visions of "Tetro" star Vincent Gallo treating him like garbage. Hopefully that's not the case.

What's "Tetro"? Coppola's follow-up to 2007's "Youth Without Youth," which marked his return to filmmaking after a 10-year absence. The film also co-star 18-year-old newcomer Alden Ehrenreich and Maribel Verdú (the hot mom in "Y Tu Mama Tambien" and caring matron of "Pan's Labyrinth"). A new website for the film has launched. Here's the synopsis:

"TETRO is Francis Ford Coppola's first original screenplay since THE CONVERSATION. It is his most personal film yet, arising from memories and emotions from his early life, though totally fictional. It is the bittersweet story of two brothers, of family lost and found and the conflicts and secrets within a highly creative Argentine-Italian family."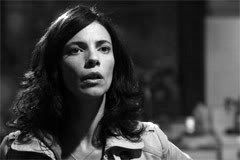 "Tetro" had its share of problems.

Javier Bardem

was at one point set to co-star, but then dropped out and the film apparently had its share of on-set financial problems too, but hopefully none of that will show up or effect what's on screen. According to Box-Office Mojo the film is set for a June 11 release date, but has someone already picked it up for distribution? American Zoetrope going it alone? We assume if that sticks, it'll be a limited release date. Hopefully we'll know more soon, but the website looks promising and evocative. And well, even when he fails, we're at least always rooting for Coppola, especially since he's returned to smaller, more personal pictures (hello, Lucas, where are you here?) [via a ProdWeekly fyi Twitter, hey, not self-promo, rad!]

Update

: Yes, June 11 is the firm date, yes American Zoetrope is distributing.