Ok, generally we steer away from early AICN test-screening reviews, because it's generally nerds with taste we don't trust writing into to AICN about unfinished films. You shouldn't really give these early peeks much truck either. However, this one about the Diablo Cody-written, Jason Reitman-produced, teen horror comedy "Jennifer's Body" does have us a little worried because the concerns ring true.

Based on the dark and sarcastic teen template of "Heathers," Cody's 'Body' screenplay takes the generic horror genre and subverts it with empowering female leads and a boatload of pop-culture riffs and sardonic quips. We read it last year and completely enjoyed it. It's not rocket science, but on the page, it's as funny as "Juno," and is wry and rather delicious in its humor. However, as AICN also points out and something we're in full agreement with them on: if the material rests on a very thin line of cheese and subversion and if executed improperly it could mean disaster.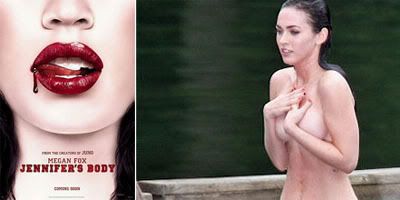 That goes for any movie really, execution is 9/10ths of every fantastic screenplay and things can always easily go awry if the tone is missed, but with "Jennifer's Body," the right tone is everything. Without reading or spoiling too much of what the "review" says, this alarming graph jumps out at us.

"Director

Karyn

Kusama

seems to have completely misinterpreted the script and turned what seems to have been a great, quirky horror comedy and turned it into a studio-style slasher flick."
Now, we don't want to to throw Kusama under the bus, even though she made films like "

Æon Flux

" that we didn't care for at all, but this isn't the first time we've heard rumors about troubling cuts of "Jennifer's Body" that seem to miss the spirit of the screenplay (and complaints that are deeper than just whiny dude, "Megan Fox's nude scene cut!", too)

.

The anon writer adds.

"The screenplay is endlessly clever... with witty dialogue and a very matter of fact way of handling the gruesome violence. For folks who didn't enjoy JUNO's style of dialogue, they'll be glad to know that it's tempered a bit here, although still very much her style. It's a very funny script that produced many, many laughs. Kusama, however, completely ignores the style in the screenplay and shoots it like a bad

Friday the 13th

sequel. Cheesy scary music (although it was a temp track), cheap jump scares, and ominous lighting and camera moves undermine the humour and deadpan that Cody seems to be trying so hard to bring out in the horror sequences."
Hey, it's an early cut and all films at the early stages are rough, but we'd be lying if we said this report is very disconcerting. We'd also hate to see more fodder for the largely misogynistic attacks on Diablo Cody, because 'Body'

is

an amusing script that shows evolution in her writing (unlike "Juno" she seems to have the three-act structure now down pat). And well, we always hate missed opportunities too.
While asking that "Jennifer's Body" be as good as a classic like "Heathers" is surely asking too much, but it should be well above the average teen rom com (and far better than the dreaded and overrated "

Scream

" films). Scheduled for September 18th 2009, if these problems

are

legitimate, we hope they can tweak or salvage what they can at this point.