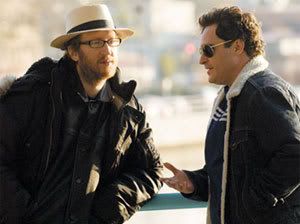 Blah, blah, blah, Joaquin Phoenix has retired. Blah, blah, blah, Joaquin Phoenix is a lame prankster "rapper."

However, one person not so concerned is director James Gray who has made three consecutive films with the mercurial star ("The Yard," "We Own The Night" and the upcoming "Two Lovers" with Gwyneth Paltrow)

"It bother[ed] me from a very selfish perspective," Gray told Time Out New York about Phoenix's "retirement" announcement.

But he's also not too upset, he still has acting plans for his good friend. "I'm less worried about it than I should be. I think that I'm going to get him to do another movie with me. I just don't know what that is yet."

There you go: one of his closest film friends figures retirement can't last. Press folks should ask Gray about the "hip-hop career." The filmmaker and Phoenix are bff besties and he strikes us as the type that couldn't lie very well. Gray's next film is "The Lost City of Z," that will star Brad Pitt. "Two Lovers" comes out this Friday, February 13.