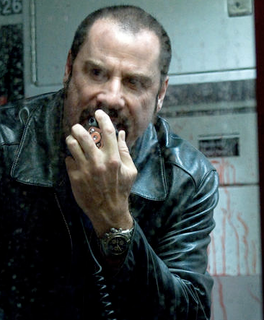 The thing about Tony Scott, other than the fact that he's an abominable filmmaker, is that his films are so frenetic and active, his camera so mobile, his color filters so overactive that, in the end, his sensory explosions become altogether boring. They're even more boring when used to gussy up a rather pedestrian effort- the sorta inventive, mostly unwatchable "Deja Vu" was done no favors by the constant avid farts and fast-slow motion Scott has become fond of in his later films. So it's a shame that, if he were to remake "The Taking Of Pelham 1, 2, 3," as he unfortunately has, that he has not made it one of his this-is-so-bad-it-may-be-the-end-of-the-world efforts like "Domino" but instead tried to make it look like just another Hollywood blockbuster like "Enemy Of The State," which was far too serious for a film so empty-headed, not to mention a sequel to "The Conversation.*"


The original classic featured Walter Matthau as a transit cop trying to stop a group of aging gunmen led by Robert Shaw from holding a subway train hostage. This version subs an older-looking Denzel Washington as a subway dispatcher stopping neo-terrorist John Travolta from taking over a train that apparently makes cars randomly flip along the streets of New York City. So yeah, the action's been pointlessly amped up for dull audiences who would find the flawless original film somewhat boring, even though it hasn't aged a day. We'll bet you all our money that instead of the unique, colorful types the hostages were peppered with in the original have been replaced with generic types out of central casting. We'll bet you even more that composer Harry Gregson Wagner's work will not be anywhere near as brilliant as David Shire's all-time top ten score.



Download- Main Theme (The Taking Of Pelham 1, 2, 3)- David Shire
*Some people think Gene Hackman's character in the film is using a pseudonym for his real name of Harry Caul, the similar character he played in that classic. Which is further evidence against Tony Scott when courts decide to legally pry a camera from his hands.