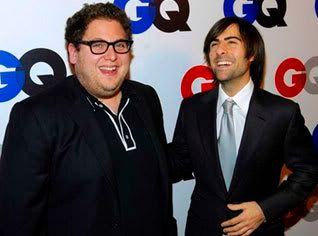 Recession? What recession? Our retirement fund might be still in the gutter, pink slips lay scattered over the ashes of deceased co-workers, schlockmeisters like Lionsgate can't even make normally lucrative horror stay afloat and Micheal Moore is so concerned with the economy he's making an entire movie about it, but screenwriters should take note (or at least famous ones): spec scripts are apparently still selling like hot cakes for cartel prices.


Just ask

Jonah Hill

. His new spec-script co-written with

Max Winkler

, "

Adventurer's Handbook

" allegedly just sold to

Universal

for

seven figures

according to EW.

What's it about? A that price does it even fucking matter? Well, apparently it's about "four 20-something guys who, inspired by a book of the same name, set out overseas in search of a mysterious location described in the book."

Apparently Hill and Winkler were all CIA/top secret about what's being called a "edgy [probably R-Rated] broad comedy," and that several studios were interested. Whatever, they don't care, they duo are probably lighting their cigars with $100 bills while strippers dance around their hottub this very second. Apparently the deal is not quite done yet, but it should be announced shortly.



Update:

Variety chimes in.

Jason Schwartzman

and Jonah Hill are going to star. Looks like the two of them got along on the set of

Judd Apatow

's "

Funny People

" where they have most of their scenes together.

Akiva Schaffer

, known for his

SNL

Lonely Island

skits with

Andy Samberg

and

Jorma Taccone

is in negotiations to direct.
Originally published at 5:30 p.m. EST