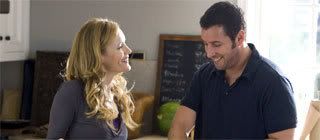 It's here for now in HD, but the embed is below. Be slightly forewarned, the trailer for Judd Apatow's next directorial effort, "Funny People" gives a lot of the plot away. It's a dramedy starring Adam Sandler as a famous stand-up comedian who believes he's dying. Seth Rogen plays his buddy, a struggling comic who becomes a quasi gopher/assistant and Leslie Mann plays Sandler's long-lost girlfriend who he's trying to reconnect with after his "near death" experience. Problem is she's married to Eric Bana? Does he fuck up their family and relationship?

Jason Schwartzman, Aubrey Plaza and Jonah Hill play some of Rogen's stand-up buddies who are in more than a bit of disbelief that Rogen has befriended the well-known celebrity that is Sandler's character. The Postal Service scores this thing? Hmm, odd. We've read the script to "Funny People," and its possibly the best, the most melancholy and the most realistic thing Judd Apatow has ever penned. There's a lot of existential, dealing-with-one's-mortality issues in the script too. It's well written and strikes a good balance of what we've seen so far from his funny/sad work. Will it be as sad and dramatic on the page or look as goofy and fun as it does in the trailer or will it be a classic mix of the comedy and heart template he's built over the last few years? It's hard to say just by judging the trailer, but all the ingredients are there on the page for it to be Apatow's most mature work.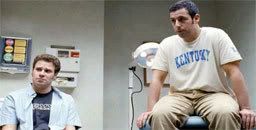 Here's the official synopsis too:
Over the past few years, writer/director Judd Apatow ("The 40-Year-Old Virgin," "Knocked Up") has shown that nothing—not even losing your virginity or the miracle of childbirth—is sacred. About his third film behind the camera, he says, "I'm trying to make a very serious movie that is twice as funny as my other movies. Wish me luck!" Apatow directs Adam Sandler, Seth Rogen and Leslie Mann in Funny People, the story of a famous comedian who has a near-death experience. Jonah Hill, Eric Bana, Jason Schwartzman, RZA and newcomer Aubrey Plaza join a cast that reunites Judd Apatow with Seth Rogen, Leslie Mann and Jonah Hill in their third comedy together.
The film is in theaters this summer, July 31.