Let the blame game begin, as is usually the case when a film doesn't live up to expectations. For filmmaker Kevin Smith, that film would be "Zack and Miri Make a Porno." The highly discussed film, at least in movie blogs, made $31 million dollars domestically, which some critics see as a poor outing compared to the film's $24 million dollar budget. So who's to blame for the film's performance? If you listen to Smith, the answer comes in the lack of support shown by The Weinstein Company in the promotion of the film.

The Toronto Sun asked Smith why audiences didn't get a hard-on for the film, and he didn't shy away with a reply. "I think they would have if they had ever known the movie was out," said Smith. "The big problem with 'Zack and Miri' was that their awareness was always screwed up."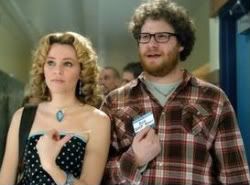 The Sun continued in the piece by saying Smith was peeved at the film being burdened by ratings fights and title controversies. The Weinsteins succeeded instead by being champions of costume dramas and serious efforts like "The Reader", which is nominated for Best Picture at this year's Academy Awards. "Unfortunately, this was a studio comedy and needed to be sold like that," said Smith.

To that we say, you do know your film was called 'Zack and Miri Make a Porno', right? There is no way that anyone can argue that the title wasn't chosen strictly for shock value. Of course there was going to be backlash against it. Shock factor has always been part of Smith's schtick. We submit "Clerks" and "Dogma" as evidence, your honor. The Weinsteins don't really seem to be at fault here. The fact is that when you play with fire, sometimes you get burned. It's not the end of the world, and it certainly won't be the end of Smith's career. His relatively low film budgets ensure that.

The good news for Smith and The Weinstein Company is that all is not lost for "Zack and Miri." In reality, the box-office number for 'Porno' are right on par with the rest of his film efforts. Smith's films have never been box-office blockbusters, as Smith has explained before in his ... wait for it ... DVDs such as "An Evening with Kevin Smith." We're guessing that art, or sales, will end up imitating life, and while you may not catch your friends going to watch a porno in theaters, they will have the DVD at home. That's where Smith's films really get the most bang for their buck. Yeah, we made a sex pun. Deal with it.