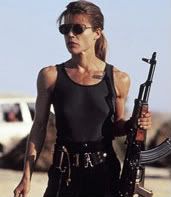 Linda Hamilton is in negotiations to appear in McG's "Terminator Salvation," but she confirms if she does agree to the "role," it will only be her voice.

"We are talking," Hamilton told MTV. "I haven't read it yet. I don't know what direction they will go in. My contribution would be voiceover," she said. "I would probably be very happy to loan my voice depending on what the material is. Wait and see. They're already writing it. We've been negotiating it."
Sounds like she's not entirely convinced this is a project she should put her name on, even if it is just

her

voice and has a

James Cameron

-like "prove it to me" attitude, smart. And makes sense considering they were married and something musta rubbed off.