Tuesday night we caught new anthology film "Tôkyô!", composed of three thirty-minute segments directed by Michel Gondry, Bong Joon-Ho and Leos Carax. The prospect of the film is pretty loaded. After all, Gondry and Joon-Ho are responsible for two of the most exciting pomo hipster and monster films of the last few years ("Eternal Sunshine of the Spotless Mind" and "The Host," y'all) and Leos Carax hasn't made a film since 1999's "Pola X" (which Scott Walker scored). Plus, you know, anthology movies are always fun, since they facilitate even more discussion than normal (which one was your favorite? Which one was your least favorite? Do you need a ride home? Etc. etc.) and remember "Creepshow"? That pretty great.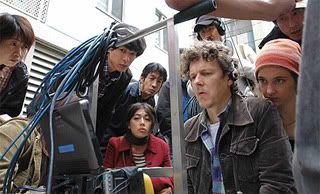 And how does this Pacific "Paris Je T'aime" fare? Pretty well actually.

Each section offers something different; Leos Carax gives us a hilarious politicized farce about a sewer-dwelling terrorist based on Godzilla with "Merde"; Bong Joon-Ho does a kind of apocalyptic love story about earthquakes and pathological shut-ins titled, "Shaking Tokyo"; and Michel Gondry delivers a much more somber, low-key and Kafka-esque take on the Gondry whimsy some adore and some can only now tolerate called, "Interior Design." We got a chance to attend a press event with Carax and Gondry, both of them crazy (and crazy talented) Frenchmen and talk to them about the movie.

Things that were funny/interesting/notable:

* On why his absurdist section was called "Merde" (the French word for shit), Carax said that, "It was a word I like in French," and with the film he was "tried to make a masterpiece of shit." Gondry added: "In France, you don't piss off someone, you shit on them." Thanks guys.


* Another journalist asked if Carax would describe his work as "punk." He just shook his head, talked about the punk music movement and said, "I've never heard that." Gondry tried to egg him on a little, talking about the title was "provocative."

* On the subject of magic realism, posed to both directors, Gondry said that, "It's much more interesting to have magic in a more grounded environment." He then went on an incredibly engaging speech about how "When there's something simple like someone disappearing," like if a camera moves and someone's there and then when the camera comes back, that person is gone. He cited "The Ghost & Mrs. Muir" as a great example of this and "that movie with Robin Williams going into dreams or the afterlife" as an example of CGI gone horribly, horribly wrong.


* We asked if they had more footage and if they could have spun their sections off into an entire feature. Gondry said that they had been working on a feature film of the same story (based on a brief comic book by the co-screenwriter Gabrielle Bell, who was also at the interview), then toyed with the idea of doing it as a stage show, and that the running time for "Tokyo" was the perfect amount of time to do the story.

* Carax said that he could have made twenty films on the vulgar and obnoxious terrorist at the center of his film, but that there wasn't any extra footage for the eventual DVD. Later, he said that he might actually do a sequel to his Tokyo story, with Merde going to America, saying, "maybe it'll be set in New York City and I'll make it a 'Beauty & the Beast' story," pitting Merde against romance. He also noted that the film was the first project he had shot digitally.

* Gondry said that he directed his Tokyo segment from the point of view of a Japanese director. When I pressed him for who he was inspired by, he said that it was just as if he imagined himself as a Japanese filmmaker. Pretty interesting.
- Drew Taylor

The film comes out March 6 in limited, and we've already shown you one version of the poster, some clips from the film and the fact that Gondry's former bandmate in the French pop group, Oui Oui, guitarist/singer Étienne Charry, composed the score for the directors' "Interior Design" vignette. Composer musician, Ryuichi Sakamoto's new project Hasymo's new song, "Tokyo Town Pages" plays throughout all three films. Here's the trailer again too.