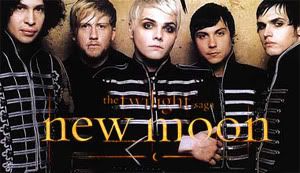 My Chemical Romance have apparently turned down the, *cough*, "Twilight saga" and won't be contributing music to the second installment, "New Moon," which is due in theaters November 20.

Ok, they haven't been asked to participate yet, but they seem like a natural fit, right?

"I don't think so," My Chem frontman Gerard Way told MTV. "We're very choosy. ... There were a few films that we didn't do the song for because it didn't fit. I guess a lot of people would say that a vampire movie would fit, but I would disagree with that these days. Even since Black Parade, I would kind of disagree with that. I don't know if we'd be interested in that."

Oooh, burn. Somewhere in Middle America, Stephenie Meyer is crying and consoling herself with ho-hos.