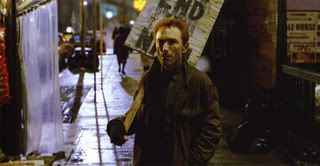 With "Friday the 13th" set to do undeserved boffo box office this weekend (Jason's done this eleven times already, people- he ain't that versatile), Platinum Dunes has moved with gusto in prepping an uneeded remake of "A Nightmare On Elm Street." Already this week it was announced that the directorial reigns would be handed to music video veteran Samuel Bayer (at least its not Marcus Nispel), and with a script from reliable studio hand Wesley Strick ("Cape Fear"), production might get started immediately.

Latino Review has fired the first casting missive, claiming that the first name on the list to replace Robert Englund's unforgettably crude Freddy Krueger is Jackie Earle Haley. Haley's a former child star from "The Bad News Bears" who was delivering pizzas a couple of years ago, so to see the 48 year old get an Oscar nomination for "Little Children," star in comic blockbuster "Watchmen" and now fill the shoes of a horror icon is kinda heartwarming. Producer Brad Fuller, who's sheparding the project with Andrew Form, contacted Shocktillyoudrop to say that they haven't begun casting yet, but its certainly possible the leak has some merit, as Haley is as good a choice as any that you're going to find, and a bit better than the earlier rumor of Billy Bob Thornton.

Fuller was also forced to quash rumors that Lindsay Lohan had been offered the lead role in the remake, based on false info given to Justjared.com. The site claimed that Lohan requested a first draft of the script and loved it, but this obviously isn't true, as Lohan has offered no proof in the past that she actually reads her scripts. The rumor doesn't kill the idea that there will be a new Nancy in the remake, which is the sort of retarded slavishness to the source material we trashed here. Is Nancy really integral to the "Nightmare" mythos? The character only appears in the first film, and actress Heather Langenkamp was the lead role in "Wes Craven's New Nightmare" as herself, referencing her own role as the first film's heroine, but it's not like she's Freddy's Ahab or anything. Then again, a distressing lack of imagination seems to be par for the course for Platinum Dunes.