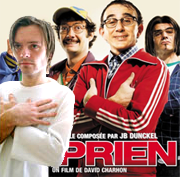 According to Pitchfork, Jean-Benoit Dunckel, half of dream-pop maestros Air, is scoring one of the most horrendous looking foreign films ever. David Charhon's "Cyprien" is about a 35-year old virgin (hmm... sounds familiar) that discovers a magic deodorant that makes women want to do him. And they say it doesn't get any better than American cinema! (Actually we have no idea who's ever said that, but still...)

This is obviously the first we've heard of this oddity of a film, and we don't foresee giving it more than this two-cents-worth write-up, BUT if we can prove that these dudes are INDEED the frog Simon Pegg and Nick Frost doppelgangers that they appear to be, than we might gloat for half a second in the future.

Back to Dunckel (who also has a periodic solo act dubbed Darkel), check out his MySpace page and give a listen to some snippets and see what you think. We doubt you'll be compelled to check out the movie any more than you were a second ago. Darkel, we mean Dunckel does a great job of running the gamut of Air's canon, alternately breezy ("Total Love Warrior Song") and dour ("Stan the Boss Bossa"), albeit with a heavy dose of kitsch added in some spots ("Rainbow Mind").

'Cyprien' comes out at some point in the future. Most likely in France and nowhere else. We'd suggest you do yourself a favor and rent Air's terrific road tour doc "Eating, Sleeping, Waiting, and Playing" if you feel like coupling Air's music with some certifiably terrific cinema. You'll thank us in the morning.