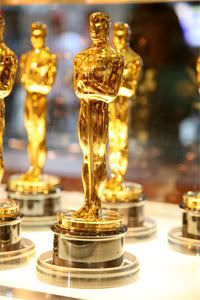 The Playlist's Half-Hearted 2008 Oscar Predictions

Do you really need Oscar predictions from The Playlist or anyone for that matter? Yes and no, and yes. The Oscar season has been rather boring because most of the winners seemed pre-ordained. In our sporting-obsessed culture, the Academy Awards are generally more exciting when you don't know what's going to happen and there's a thrill and anticipation going on. "Slumdog Millionaire" does look poised to sweep, but as they say (ugh), anything can happen!

Will Oscar voters have felt 'Slumdog' backlash at this point in the game? Will they just want to see some other films get some love and collectively that'll add up to wins for other movies? Who knows. Honestly, after the nominees were announced, we started tuning out the minutia of Oscar pundit-ing and temperature taking. We feel [ed. and me especially] less confident this year in our predictions that we have in many years simply because of that: we've basically tuned out and haven't been following. So these are "our" predictions [ed. I consulted two Playlist members with an Oscar-centric bent and either agreed, disagreed or veto'd]. And yes, we [I] won a $50 dollar bet recently when we said Michael Shannon would get a nomination (despite the fact he was shut out of the SAG nominations) we wouldn't necessarily recommend you follow us note for note.

PS, We may do some actual research this weekend, so we reserve the right to change this list at any time before the show. Hopefully we won't second guess ourselves too much though.

Best Pic - "Slumdog Millionaire"
Director - Danny Boyle
Actor- Sean Penn (but the rest of the Playlist teams is for Mickey Rourke, you may see this change between now and Sunday evening)
Actress - Kate Winslet (yeah, "The Reader" thing is weird and confusing cause it was supporting at the Globes, but she's due. "Doubt" and Streep did not receive the same kind of support)
Sup Actor - Heath Ledger (duh)
Sup Actress - Penelope Cruz (this is the spoiler/dark horse category. We'll play it safe, but look for Amy Adams or Viola Davis to upset)
Original Screenplay - "Milk"
Adapted Screenplay - "Slumdog Millionaire" ("The Reader" could be the upsetter here)
Editing - "Slumdog Millionaire"
Cinematography - "Slumdog Millionaire" ("Button" is prettier, and so is "The Reader," but 'Slumdog' won the Guild award)
Art Direction - 'Benjamin Button'
Costume - "The Duchess"
Make-up - 'Benjamin Button'
Vis FX - 'Benjamin Button'
Score - "Slumdog Millionaire"(really want to go with Alexandre Desplat's Benjamin Button which was beautiful, but...)
Song - "Slumdog Millionaire"- "Jai ho" (really want to change this to Peter Gabriel's "Wall-E" cause it's leaps and bounds better, but we're going with the conventional wisdom for now)
Sound Edit - "The Dark Knight"
Sound Mix - "The Dark Knight"
Animation - "Wall E" (probably a lock, but let's not forget that "Kung Fu Panda" swept the Annies and "Wall-E" was shut-out)
Foreign Film - "Waltz with Bashir" (sometimes a wild card category)
Documentary - "Man on Wire" (this is a very wild card category, but if you want to play it safe, go with 'Wire')

Don't ask us about the short doc or animated or live-action shorts right now, we might do some research over the weekend, but we'd be lying if we said we had a clue at the moment. We paid zero attention there, alas. Look for a potential update on Sunday afternoon.