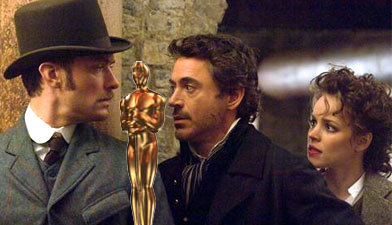 If you've waded through NY Times' "The Carpetbagger" Oscar blog, read up on what we've been reporting, or heard any sentence mentioning the Academy Awards in the past two weeks, you've heard about all of the crap that's gone down in an effort to not be so effing stuffy this year. They've got Hugh Jackman hosting, Judd Apatow whipping up a "comedy tribute"-of-sorts , and Queen Latifah singing over the "recently deceased" montage (sans applause). And that's just the tip of the iceberg.

One of the few "hip" changes that could keep a few less people from rolling their eyes is the sneak previews the Oscars plan on rolling out post-ceremony. (Wow! It's JUST like going to the movies!) This of course is dependent upon whether or not you're interested in seeing "Sherlock Holmes," "Harry Potter & The Half-Blood Prince," and/or "Terminator: Salvation." Consider us 1.5 for 3 thus far. This comes courtesy of the C-Bagger who got word from the L.A. Dispatch.

We're not sold on the whole "coming attractions bit", but something even more worrisome is set to happen to those who give a crap about the pre-show - the "Mystery Presenters" aren't going to hock their designer wares on the red carpet! Oh noez!

The Oscar telecast's producers want to play hide the peanut with presenters, asking them to detour around the red carpet so that there is an element of surprise at this year's show, and the fashionistas, or at least their flacks, are freaking out.
The "M.P.s" is a dumb idea to begin with, so take that news item with a grain of a salt. In fact, you'd do best to take the whole ceremony with many, many grains. Personally, we're sad to see the montages get the heave-ho (when else are people going to know that foreign films are f-ing cool?), but more than that we're scared about all this crap about nominees needing to be on their toes because awards are going to be tossed out quick & slick, musical chairs will be played and the tribal council will vote one award off of the ceremony. (We kid.) We just thought that the Oscars knew how to spice things up yet remain classy, as opposed to flashy.