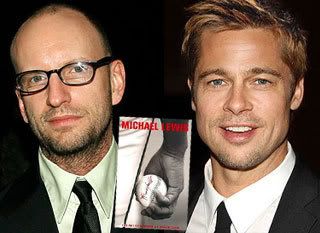 Back in November, Steve Zaillian ("Gangs Of New York") had signed on to adapt the baseball novel, "Moneyball: The Art of Winning an Unfair Game," as a vehicle for Brad Pitt to star in.

Today news comes from Variety that Pitt's old "Oceans 11, 12 n' 13" pal Steven Soderbergh is in talks to direct. Soderbergh is apparently only in early discussions because he evidently doesn't have enough projects on his plate between the two movies coming out this year -- the lo-fi, "The Girlfriend Experience," the Matt Damon black comedy, "The Infomant" for WB -- the Cleopatra rock musical, "Cleo," the "Liberace" biopic and probably four other projects we're forgetting.

But according to the trade, Soderbergh will shoot this first before "Cleo" - which now has been pushed until next year. "Though he set his financing, Soderbergh decided to push back ['Cleo'] m until next year, after [Hugh] Jackman dropped out because of scheduling problems," Variety writes. That is if Soderbergh does indeed sign on and it looks like he probably will now that his sched is free'd up. Let's hope those funding dollars don't all of sudden evaporate in 2010, what would poor Guided By Voices do?

'Moneyballs' story is about a Major Leagues baseball manager who assembles a contending baseball club on a shoestring budget by employing a sophisticated computer-based analysis to draft players. According to Wikipedia, its central premise is how "the collected wisdom of baseball insiders over the past century is subjective and often flawed."

We're ok with this, but it feels a little, "one for them and one for me" strategy before he shoots the more ambitious musical. Either that or he just needs more time to find a new lead or schedule when Hugh Jackman is free again.