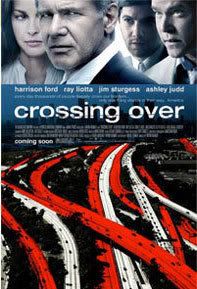 We were once taken to task for being unfair and facetiously dismissing the Wayne Kramer film, "Crossing Over." But the diagnosis, frankly didn't look positive. Harvey Weinstein had allegedly (meaning very probably) taken his scissor hands to the picture and mutilated
Kramer's "Crash"-like intersection of race, immigration and bigotry in a multi-tiered Angelenos drama.

Obviously a picture on this subject needs to be handled with grace and an even hand, but Sean Penn found the finished version so vile he reportedly asked for his six-minute cameo to be excised from the film, and indeed, he's not in it. We might have been a tad presumptuous - it wouldn't be the first time, and frankly we love being proven wrong - but the reviews are in and "Crossing Over" are critics are giving it a savage beating as if they were cops and it was Rodney King.

Writing for the Village Voice, L.A film critic Scott Foundas - who also writes for Variety and other major publications - thrashed the film within an inch of its life saying it had a "tasteless" vulgar touch "concealed under a paper thin plaster of Oscar-worthy self-importance."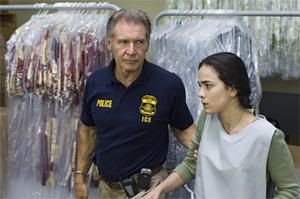 Apparently Ray Liotta's character likes to buttfuck in exchange for green card status (Foundas makes two such references for his anal blackmailing ways) and Foundas writes, Kramer doesn't seem to like people very much" nor "encounter a cultural stereotype he can't repurpose."

Why Harrison Ford decided to star in anything besides "Indiana Jones and the Fun Time Bucket Of Cash" is sort of beyond us, but at least he's trying?

We'd give you further quotes and opinions for deeper context and perspective, but we're not sure it would help. The film has a wretched 14% rating over at Rotten Tomatoes. But...

Slate: "All of its plot threads are equally dreadworthy." (their headline is: "Deport this movie.")
Armond White: "This focus on uneasy spiritual and political transformation runs into thematic banality. Although more than a set of patchwork, Crash-like homilies, Crossing Over is almost as didactic."
Nymag hates it to, but does give it one positive note, "it's better than 'Crash'."

Hmmm, that's not saying a lot... We hopefully don't need to tell you to stay away from this one this weekend. We will note the one negative fallout of these brutal reviews, mostly comparing the film to an even-lamer version of "Crash," is the fact that Alejandro Gonzalez Iñarritu's "Babel," is being lumped into this mess. Yes, on the surface, Iñarritu's multidimensional drama did seem like a ham-fisted metaphor for global non-communication and how it effects us all, but it's actually a much more soulful, rich and resonant allegory for human suffering and it should never be lumped in with this kind of trash.