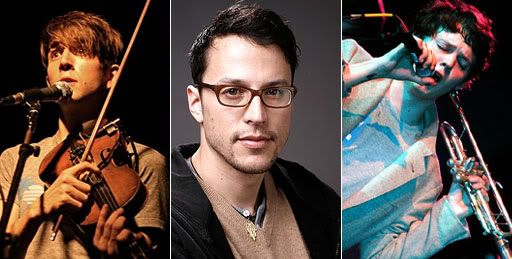 Continuing our coverage of the Zach Condon of Beirut and Cary Fukunaga (director of the recently released indie drama "Sin Nombre") potential collaborations.

As we just noted Condon was tapped to do the score of the Mexico-set "Sin Nombre," but the collaboration didn't work out (though it was still fruitful for Condon musically).

However, just because they weren't on the same page, doesn't mean they won't ever work together again. Quite the contrary, in fact, in what is a wet-dream for "where movies meets music" nerds like us, Fukunaga is in talks with Condon and Owen Pallet of the one-man-band violin show Final Fantasy (and sometimes Arcade Fire member) to potentially write the compositions for a musical that the director has in mind for his next project.

"I'm going in two different directions right now with two different genres," Fukunaga told the Playlist exclusively about the two upcoming film project he is writing and working on. "I'm not going to do another similar, so-called socially conscious film, I think I'm going to do either something with more levity or just a drama. [My next project ] might be a musical too, I don't know yet."

Prodded a little bit more as to who his collaborators might be if he does get the musical off the ground he said, "I've talked to both Zack Condon and Owen Pallet," but stressed, "we're just in talks and there's nothing set yet."

However, he was a little bit more forthright when he talked to Vulture yesterday (presumably because they're not a music soundtracks blog).

"[Zach Condon] and Owen Pallett [from Final Fantasy and Arcade Fire]... we've been trying to figure out how to do a musical or an opera of some kind. A rawer style than your standard Broadway adaptation or Busby Berkley throwback. I haven't cracked it yet, because my thing is, I don't really like musicals. We just don't like the music in musicals, so the big question is how to turn the challenge of pushing narrative forward through song in a way that the songs aren't ruined."

This would be a pretty perfect collaboration considering Final Fantasy and Beirut have already been collaborating (they've already recorded together and Pallet arranged violins for Beirut's 2007 album The Flying Club Cup). There's no word on what the musical will be about, but we salivate over the cinematic and musical possibilities. We hope it happens.

Pallet has already worked on one soundtrack so far, Richard Kelly's "The Box," which he wrote with members of the Arcade Fire.

After one film, Fukunaga is already on track to have a bright and vibrant career. And he told us doesn't want to be boxed in or pigeonholed either. "I think as careers go, I think Alfonso Cuarón, Michael Winterbottom and Gus Van Sant have done diverse works quite well. I would ideally want [a career] with as much diversity in my work as possible."

Oh, PS. on his IMDB Pro page, Fukunaga has a script called, "Beasts of No Nation" listed for 2010 which is a drama based on the novel by Uzodinma Iweala that chronicles "the experiences of Agu, a child soldier fighting in the civil war of an unnamed African country." The project is also listed separately from his two first-look deals with Focus Features and Universal.