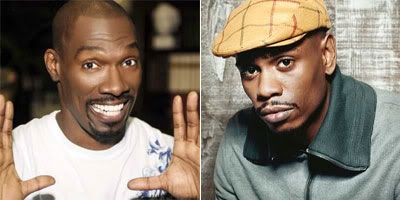 We won't editorialize this too much, it's not really our wheelhouse (though we loved "Chappelle Show," and it is a slow Friday), but it is interesting and almost shocking to hear Charlie Murphy speak so candidly about his former boss and pal, comedian Dave Chappelle. He's obviously disappointed with him and he assumes they could have dominated comedy on television for a few more years, which is likely true. Sigh... everyone was bummed about the demise of the "Chappelle Show," even those that worked on it.

How many more seasons do you think you could have done of Chappelle's Show?
We probably could have done seven more, easy. We were given the Holy Grail, we were blessed. We could have done seven years.
Dave Chappelle has said he had issues with some of the racial humor of the show. Did that ever bother you?
Whatever Dave Chappelle was saying that he had problems with, that wasn't really the problems he was having. Cause where is Dave Chappelle?
I don't know.
You know what I'm saying? We don't know what was wrong with Dave. I wish him all the best. Whatever his explanation, I think it's obvious to everyone that's not what happened. I still get asked about it today. People still say, so, you guys coming back? Which means there's a market, but I don't know if Dave can get a job with a network now.
Do you think he blew it a little bit?
A little bit? First of all, to be black, you a lightning rod in that respect already. And to be black and get the opportunity and then throw it away? I don't know too many guys that did that and still had a career. You can't name a guy in the history of the show business who thumbed his nose at the industry and still was supported by the industry. But whatever his reasons, Dave's happy. [Interview via Vulture]
Charlie Murphy also defends Eddie Murphy's "Norbit" in the piece which he co-wrote, which we kinda think is a minor masterpiece. It's so fucking retarded, it's actually kind of funny.

It was rumored that Dave Chappelle was up for a role in Michel Gondry's "Master of Time & Space" and or "Be Kind Rewind," before Mos Def got the part, but who knows. Chappelle and Gondry obviously did "Dave Chappelle's Block Party," in 2005, but he still seems to be awol and lost in the woods. We'd love nothing more for him to come back and working with Gondry would be a great start.