Ahh, a man with his head on his shoulders and therefore a man after our own heart. Director Edgar Wright ("Hot Fuzz," "Shaun of the Dead") thankfully doesn't need to see "Watchmen," to know xerox regurgitating adaptations don't do anyone any good outside a few myopic purists.

Currently filming an adaptation of the excellent graphic novel "Scott Pilgrim Vs. The World" in Toronto, Wright talked to Now magazine last week and he insisted plenty of comic book films like "Danger Diabolik" and those that weren't direct adaptations but had a comic book feel — like "RoboCop" — have been made and they weren't verbatim transcriptions, but were keenly in the spirit of the original work. "Scott Pilgrim won't be like Watchmen, the comic as a visual storyboard," Wright said.

For those that know Toronto and Canada well though, Wright says shopping mainstays featured in the comic about 20-something slackers will be featured in the film "Pizza Pizza is in there, Second Cup, Lee's Palace – people will know it's Toronto. Other cities offer tax breaks, but spiritually it had to be here."

He's not kidding either. We've read the script for "Scott Pilgrim Vs. The World," written by Michael Bacall (also an actor who has a small role in "Inglourious Basterds" as one of the Jewish-American soldiers; he also appeared in Tarantino's "Death Proof") and it's significantly different, but very awesome, hilarious and very-much capturing the mood, tenor and tone of Bryan Lee O'Malley's original books with necessary changes to keep the narrative propelling forward (we'll get into that deeper soon), but never deviating wildly (Bacall was also named by Variety as one of the 2008 Screenwriters to watch).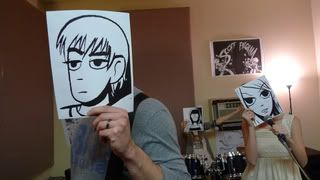 And O'Malley, who has been consulted at every turn, has already said plenty of times, he loves the script, what they brought to it and understands that the two mediums are different. "I feel respected and valued," O'Malley said of his input and opinion, "which apparently is not supposed to be the way you feel in these things."

"They definitely run a lot of stuff by me," O'Malley told Chud last month. "Which I'm like, 'Guys, you don't have to run that by me,' but they still do. Which is cool. They're being really respectful."

O'Mally has said the sixth and final 'Scott Pilgrim' book should arrive right around the same time the film does in 2010, but right now that date is pretty up in the air. The script has probably been revised like all screenplays are, but let's hope not too much. The version we read was excellent. [NOW]

BTW, Edgar Wright just posted a photo of the "Scott Pilgrim' nemesis band, The Clash At Demonhead. So that would be Brandon Routh as Todd Ingram, Brie Larson as Envy Adams and who's playing drummer Lynette Guycott? She hasn't been publicly cast yet that we know of. According to Bryan O' Malley on Twitter, she's not a well-known actress. Perhaps a local Canadian thesp or even local rock musician?