Is Willem Dafoe's naked butt grinding into Charlotte Gainsbourg and copulating on a weird tree with bodies hanging out of it NSFW? You'll have to decide that yourself we guess.

The first photo of Lars Von Trier's "Antichrist" has arrived via Empire and yeah, what we described is pretty much it. What's it about? Well, it's been described as a "psychological thriller / horror," but here's some more details.

Synopsis: A therapist attempts to treat his wife after the loss of their own child by retreating into a cabin in the woods, where they learn that their child might be tangentially related to the coming of the Antichrist.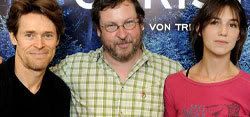 Von Trier's first film since succumbing to crippling depression after completing "The Boss Of It All", "Antichrist" will stand apart from the provocateurs previous work in that he's previously stated that he needs to direct a film that makes money. Plot details are scarce, though it's hard to not get the shakes when you consider what a Von Trier horror film would be like, since Von Trier's films feature shocking, wholly unpleasant encounters with characters doing such cruel things to each other that scar worse than any knife. Known for being an abusive tyrant of sorts on the set, he's enlisted two go-for-broke actors in Willem Dafoe and Charlotte Gainsbourg in the leads, and while he's promised a commercial English language feature, his films have proven to be so problematically defined by mockery and hatred American politics that its hard to predict what type of film this will end up being.

Release Date: Rumored to be September 11th (holy shit, Lars). Empire says there's not even a U.K. release date yet, but the film is rumored to screen at Cannes.