Richard Kelly's third feature, the "Twilight Zone"-esque, "The Box," and its ever-changing release date has been shuffled around more times than an unwanted and maladjusted teenager in the foster care system.

Which prompt us to ask more than is "The Box" just an accident waiting to happen. It makes us ask: is Richard Kelly a charlatan and not the boy wonder director that some thought he was.

Here's some evidence. "Donnie Darko" (which has gone from really great cult film to overrated classic) was an excellent little diamond in the rough gem. Hold that thought. Then Kelly released the disastrous and laughable, apocalyptic "satire" "Southland Tales," and most of his cinematic goodwill went up in flames. What happened? Further investigation into his work and specifically the director's cut of 'Darko' hints that the filmmaker might have never had the right stuff to begin with. His own cut does everything that 'Darko' didn't, it loses all the ambiguities, it kills the mystery and it puts much of the opaque story out in the open, clear as day. Watching it is actually painful if you enjoyed the equivocal nature of 'Darko' (which we did).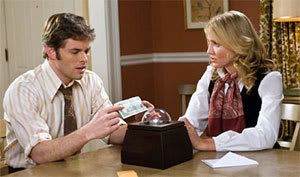 Back to "The Box," it does boast a score by written by members of the Arcade Fire going for it (this time, not a rumor or misreports), but other than that the film feels like a bit of a problematic and unwanted step-child. How many times has the release date been bumped around? It's hard to keep track of at this point, but it feels like at least 3-4 times (at one point it was scheduled for a 2008 release). All of it suggests not a lot of confidence from the studio OR Kelly somehow has a masterpiece on his hands that will confound audiences and is a hard sell. Somehow we don't think so.

So, in keeping with the child being sent to live with his grandma, "The Box" has been moved from a November 6 release to an October 30, release. Not a huge move enough to worry about, but with all the tweaking that's been done so far it does raise eyebrows a bit.

The film stars Cameron Diaz and James Marsden as a couple who are given a mysterious box by a strange man (Frank Langella) who are posed with a gigantic moral proposal: push a button in the box and receive a huge monetary windfall, but however, in doing so, someone will die. Sounds episodic? Yeah, it's basically an episode of "The Twilight Zone," extended into a feature film. [Box Office Mojo/Cinematical]