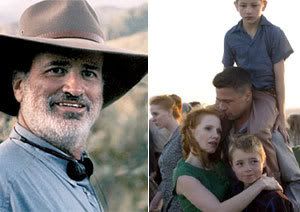 By now we've all obviously heard that Terrence Malick's "Tree Of Life," has grown into two films. One will be a drama starring Brad Pitt, Sean Penn and Jessica Chastain (pictured) and the second will be an a panoramic and extensive natural history segment/ IMAX movie that features dinosaurs and depicts, "the birth and death of the universe."

But apparently the second film is now called, "The Voyage of Time." Google searches bring up many references (with photos too) and an Awards Daily commenter from Austin that says "I can confirm that Malick is working on a parallel project entitled 'Voyage of Time.' "

This certainly rings true as we also talked to a source in Austin -- where Malick has a home -- working on the project during SXSW who told us similar information, adding that reshoots were currently taking place on 'Life' that week (whether they were with the principal actors was unknown) and that the film would likely not appear at Cannes -- as was rumored -- because the picture is about a year away from completion and maybe a year and half away total. Our sources also told us they had not heard of any third film.

More proof, managing creative director of Wildscreen Festival Green Umbrella -- a science and natural history programme production company in the UK -- Nigel Ashcroft's bio used to say, "Currently Nigel is working on 2 major projects with legendary film director, Terrence Malick. As well as producing an extensive natural history segment for Malick's latest feature film, The Tree of Life starring Brad Pitt and Sean Penn, they are making an Imax film entitled The Voyage of Time. Both are due to release at the end of 2009."

But now all references to 'Voyage' and Malick's films have been removed.

However, due at the end of 2009? We wonder how old that info is. The source we spoke to was just a week ago. Meanwhile, Malick has also reportedly chosen to shoot parts of his new film on 65mm negatives (the IMAX footage is obvioulsy shot in 70mm).

If you've read this old 1995 article about a Malick project called, "Q," it's quite evident that "Tree Of Life" and "Voyage of Time," are the same project, but heavily evolved and mutated over the years.