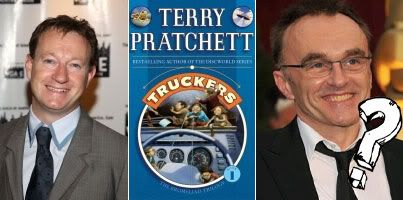 After rumors of his involvement with a 'Wolverine' sequel came and went, "Slumdog Millionaire" writer Simon Beaufoy has found himself a new project. THR revealed that the Oscar-winning writer will work on a script for a Dreamworks' animated project called "Truckers."

The film is based on the first installment of Terry Pratchett's Bromeliad trilogy, a children's fantasy book series. "Truckers" follows the adventures of a group of Nomes, a race of tiny 4-inch people, who live under the floorboards of a department store. They have never been outside and, to them, things like day and night, sun and rain are nothing more than legends. Their whole world is thrown upside down when they learn of the department stores' upcoming demolition. It is then up Masklin, one of the newest arrivals to the group of Nomes, to mastermind a plan for all to escape into the oblivions of the Outside.

What THR and everyone has seemingly failed to note, is Pratchett's "Truckers," was the post-"Slumdog Millionaire," project that director Danny Boyle was supposed to be working on for Dreamworks as well, but the project fell through last fall (he first brought it up, when we asked him about it during TIFF). Back then it was being written by "Millions" screenwriter Frank Cottrell Boyce. In December, Boyle noted how the project was unfortunately dead.

"I was working with

Frank Cottrell Boyce

, who wrote Millions. We were working on the script at DreamWorks together, 'cause animated films take forever. I normally only ever do one thing at a time, I normally never double up on what I do, but I was doing that on this one. It's fallen apart, unfortunately, so it's not going to happen. [Animated films are] so expensive and complicated. They're a huge thing."
He again, reiterated in January of this year how the project was DOA. In September he said the film would be
a "mix of live-action and animation
."
However, obviously both Danny Boyle and Simon Beaufoy have a lot of juice in Hollywood after this year's Oscars and both are now Academy Award winners. Boyle basically had the pick of the litter of projects after his Oscar win. Did he decide to get Beaufoy to re-write the script and start all over again? Sounds fairly plausible considering Boyle's rejected all the big projects that have been thrown at him post-Oscars.

Whatever happened to Boyle's reported collaboration with Danish

enfante terrible

Lars Von Trier

, is that ever going to happen?