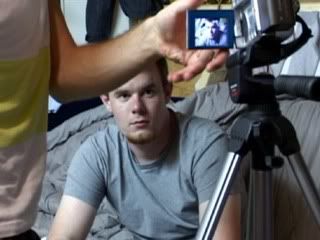 This week, the New York Press printed a pretty interesting piece on the relationship between Mumblecore pioneer Joe Swanberg and "The Squid And The Whale" director Noah Baumbach (they've become buddies and Baumbach has taken the fledgling filmmaker under his wing).

It mostly details the rise of the Mumblecore movement and Swanberg's newest, "Alexander The Last" (which Baumbach produced) but it also mentions a few of the newer projects coming down the pike from him. One sounds particularly intriguing: Swanberg is using Chekov's "The Seagull" for a "quasi-horror" film called "Silver Bullets."

The cast would feature Jane Adams ("Happiness") and two influential faces in the world of indie horror, Larry Fessenden and Ti West. West, who just recently completely what was less of a pleasurable experience on "Cabin Fever 2," is an up-and-coming filmmaker who's crafted two tiny near classics in the genre with "The Roost" and "Trigger Man." Fessenden, his mentor, specializes in a low-fi horror experience that compares favorably to John Carpenter's late seventies-early eighties in his interest in horror shaped by political, social and spiritual views, and has made a nice living as a cameo expert for several friends in the indie community while also serving as producer on efforts such as "Wendy and Lucy."

No word on the plot of "Silver Bullets," but it probably won't be devoid of at least a few good ideas.