Continued from our SXSW Film Festival reviews from Friday and Saturday. We saw "I Love You, Man," the design documentary, "Objectified," Sam Rockwell in the psychological sci-fi film, "Moon," and a few others.

Ok, onto our final day at SXSW. Yes, it was short of us, but friends stayed behind and reviews are coming... eventually. :)

Sunday, March 15

Reel Shorts Three

Reel short was what it sounds like: a collection of short films in one hour and some sitting. It was a great group, the SXSW Documentary Award winner of the pack, Jason Tippet's "Thompson," was a funny and caring look at a bunch of maladjusted misfit best friend teenagers who really don't fit in. Here's all the films in the group. Shot on a weekend as a joke for a Red Camera test, Julio Quintana's "Wing It" about angels over the shoulders of drug dealers was hilarious and well-done. Brazilian actor Daniel Rezende had innate comic chops and someone needs to look into him to cast him for real work. A comedic look at street mimes Lance Alton Troxel's "The Golden Pose," wasn't perfect, but featured excellent music and cinematography. An auspicious start thought. "The Better Half," featured a solid performance by Alison Folland (Gus Van Sant's "To Die For," "All Over Me") and a noteworthy turn by Michael Godere as a disconnected man and his various women. Plus it boasts an evocative score by Austin multi-instrumentalist Davíd Garza (Jon Brion, Fiona Apple). You can read about all the shorts here. [B+]


"Sin Nombre" - The Mexico-set socio-political thriller by Cary Joji Fukunaga that's coming out this weekend (!) in limited release was a revelation of filmmaking and performances. It begat the question: "Where did this director come from!?" as one has to ask themselves this after picking themselves up the ground from being floored by this astonishing debut. Marked by fantastic, very-naturalistic performances (with many non-actors), haunting music, incredibly crisp cinematography and a assured and compassionate director's lens, this sometimes-brutal drama about Central American immigrants heading to the U.S. haven and ruthless Mexican gangs was moving and accomplished filmmaking of the first order. Fukunaga becomes an instant director to watch and its no wonder that after Sundance, both Universal and Focus Features quickly snapped him up for two blind-script deals. There's that much confidence in him. A film not to miss. [A]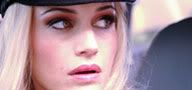 "Women In Trouble"
We can't pretend to properly review "Women In Trouble," the third feature by Carla Gugino's boyfriend Sebastian Gutierrez because we didn't see the whole thing. We had a choice between watching about 45 minutes of the film and then make the mad dash to see Brüno which we were obligated to see due to assignments, or sit around and twiddle our thumbs, and we decided that 3 vignettes out of 9 total was better than nothing. We saw actors like the aforementioned Gugino's pregnant porn-star character, Josh Brolin's British rock-star, Marley Shelton's adulterous airline stewardess, Connie Britton, Adrianne Palicki, Emmanuelle Chriqui and Caitlin Keats (Joseph Gordon-Levitt was also in the film, but we didn't get a chance to see his part).However, we will admit the film had a (purposefully) wildly campy tone that was very hard to hang with initially. We and the rest of the audience seemed to adjust around the 35-minute mark and we're told that there were some actually some somber and moving moments in the film later on, but we guess we'll have to wait til we see it before we judge it, but it would be interesting to see how they got from the purposefully corny porn-star acting and lighting to a place of gravitas. The film was scored, rather wildly to fit the material, by Robyn Hitchcock (who also wrote some music for "Rachel Getting Married").


"Brüno" (22 minutes of preview footage)
Here's what we wrote earlier in the week when we called it a 'savaging 9/11 of subversive comedy." "Brüno" somehow makes "Borat" look like child's play, upping the ante on Sacha Baron Cohen's aggressively offensive, squirm-worthy hilarity. With a recorded introduction by Cohen himself, the transgressive, outrageous and, at times, stunning footage was broken up into three sections: baby interviews, a fake Jerry Springer-like Texas-based talk show and the Gay Ultimate Fighting Championship face-off. In describing each scene, the comedian revealed much of the film's plot. He also noted that all the gut-busting scenes were being shown in a longer form than they would be in the final theatrical version (i.e. with more painfully prolonged exposure to uncomfortably uproarious funniness than doctors would normally recommend).... read more.[A]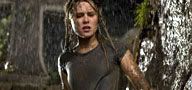 "Drag Me To Hell"
Hey, we aren't just a wet blanket and thought "Army Of Darkness" was great, 15 years ago, but that episodic, goofy sitcom horror tone just does not play anymore. Purposely corny and goofy, Raimi has admitted the film is a big dumb, horror comedy met for laughs and thrill and nothing more and we suppose with that aim it succeeds, but it is so on the nose, eye-rolling and.... it's just not the kind of film we normally watch and its much more for the lite, escapist popcorn moviegoer. For Raimi devotees only and please note, the director is a super-swell and guy and nothing personal (Yes, it was a work-in-progress technically, but that's just for mixing and special effects, it wouldn't change a thing). [C-]

We also saw two films in advance of SXSW that played there that were both incredible.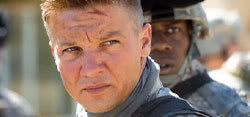 "The Hurt Locker"
Kathryn Bigelow's intense Iraq war action drama is probably the best film we've seen all year so far. We saw it at the beginning of March and wrote, that we were "wowed, dazzled and taken aback by the experience. A dizzying display of raw, intense energy, the first fantastic film of 2009 has arrived and its a fierce and impressive piece of work." Riveting and tremendous, all three leads Jeremy Renner, Anthony Mackie and Brian Geraghty were fantastic. An action suspense thriller that happens to be set in The backdrop of the Iraq War, 'Hurt Locker' is an apoliticized look at adrenaline junkies who happen to be EOD (explosive ordinance disposal) experts. [A+]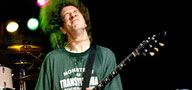 "Anvil! The Story Of Anvil"
Uplifting, but never corny documentary about the under-appreciated and underachieving Canadian '80s heavy metal band, Anvil, a real-life Spinal Tap-esque band. The story of these lovable buffoons will make you pump devils horns in the sky, cringe with embarrassment, laugh and weep in celebration. Alternatively, hilarious, pathetic and moving, the aged rocker set-up goes from losers (you think they're morons who should've given up the ghost a long time ago) to an incredibly poignant and very human story of friendship, brotherhood, cockroach-like tenacity and resilience in the face of the harshest of obstacles (you want them to succeed in every way imaginable). No joke, the inspiring tale provoked an emotional standing ovation after the screening when we saw it last summer. We also included it in our Best Films of 2008 list.

More reviews from the SXSW Film Festival are on the way from our friends on the ground.