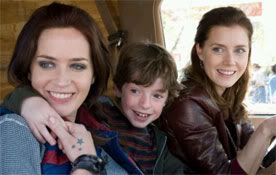 A sweet, somewhat loopy modest family dramedy, "Sunshine Cleaning," is a well-intentioned, if ultimately not completely satisfying little picture that deserves better than where it ended up.

Directed by Christine Jeffs ("Sylvia" with Gwyneth Paltrow in 2003), the trailer suggest an offbeat, "quirky indie" and while there are those muted notes to call it that would be cheap and lazy. What is really delivered is a more honest and auspicious character-driven indie that eventually and sadly, loses its way. Revolving a motherless family, a struggling single mother (Amy Adams), a slacker sister (Emily Blunt) and their get rich or die trying father (Alan Arkin), the story's underachieving plot kicks into gear when Adam's A.D.D. son is kicked out of school for seemingly innocuous misbehavior. To afford tuition, she concocts a plan to a start an odd biohazard removal/crime scene clean-up business -- brainstormed by the married cop she's sleeping with -- roping in her unreliable sister.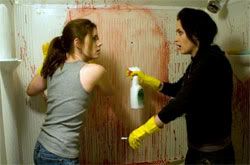 Promising and quietly observed, 'Cleaning' loses sight of its charming spirit when it eventually tries to tie all its loose threads far too perfectly; its not in synch with what we've been given initially. The characters are sympathetic, unique and the performances are keenly compassionate (especially a spectacular Adams), but around the halfway mark it the picture begins to unravel on itself. With its endearing low-stakes it's the type of film that should let the plot chips lie where they may, but it can't resist the urge bowtie wrap and in doing so does itself a great disservice.

There is something charming and beguiling in its first half, there's a great cast here (an excellent Steve Zahn too) for good reason and it isn't the pay (it clearly looks like a labor of love; we swear half the shot is underlit by an F-stop). Megan Holley's script has some wonderfully flawed and imperfectly underachieving characters within it. There is something definitely worthwhile in this picture trying to fight its way out, but its undone by one little cliche after another. Initially you can forgive the false grace notes, the actors imbue it all with highly-affecting heartful humanity, but after the third and fourth transgression in the second act you tend to simply feel resentment; as if the choices are betraying these appealing and winning people.


The cast - rounded out by and oddball one-armed Clifton Collins Jr. - is solid, but Adams shines brightest as the mother and big sister to her aimless sibling (Blunt). She always conveys such an innate vulnerability and fragility its uncannily penetrating. When she quivers with emotions, a flurry of feelings in her face flutter in one pained glance, we too quiver and knows exactly how she feels.

The main hokey part of 'Sunshine' which doesn't ruin it per se, but doesn't help, is the formulaic and near corny metaphor. By cleaning up the passed-on loved ones in other people's lives -- and helping out in some small measure the pain they have to deal with, they begin to dust-off the clues surrounding their mothers death when they were mostly too young to remember it. The little flashbacks are an aggravating uneven choice and its a game of little contriving story inches that eventually stack up against the picture's total grade.


Musically, Michael Penn's score alternates between an winsome instrumental New Pornographers-like drive, a Jon Brion whimsy and a too-pronounced form of templated indie melancholy, it mostly works, but its forefront mix at times could have registered more subtly.

We're still interested too see what writer and director do next. Lord knows its rare that a mother this well rounded and complicated is shown on screen, and there's a ton of promise in "Sunshine Cleaning," its just not quite fulfilled as brightly as it should be. [B-]