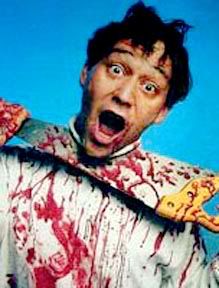 Empire got director Sam Raimi to sit and chat with them about his new movie "Drag Me To Hell," but of course they couldn't resist asking about his other well-known properties.

He predictably humored them in his typical non-committal way, giving a description of his seemingly "newsworthy" writing of "Evil Dead 4."

Raimi confesses he's writing with his brother Ivan, saying they've written "nine pages so far." Stop the presses.

He adds also written is, "some dialogue. Ash being an idiot. Ash taking some abuse. Some character stuff and then some structure of Act Two. Just other possibilities for things that could happen. It's ideas, jokes, things we'd like to see." Seeing as how it's been almost two decades since the last "ED" film, its hard to see how this little bit of work is any more than what hundreds of nerds have fan-fictioned on their own while dreaming of which ending of "Army Of Darkness" should be canon.