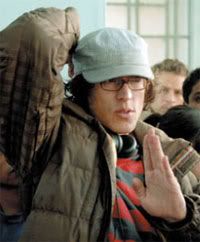 Ever since we saw Cary Joji Fukunaga's auspicious debut, "Sin Nombre," at the 2009 SXSW Film Festival two weeks ago, we've pretty much become instant fans of the young, preternaturally wise and articulate filmmaker (he's a fan of Walter Murch which also earns him points). We're not the only ones, Time Out New York called his soulful and humanistic immigration drama an, "arresting debut, a movie that moves—swiftly, fatalistically—to a violent and bittersweet finale."

We talked to Fukunaga last week — who has a first look deal with Universal and Focus Features (who enthusiastically put out 'Nombre') and he told us that he's working on a musical that could feature the music of orchestral indie-rockers Beirut and Final Fantasy (a sometime-member of the Arcade Fire) if all goes well.

According to Time Out, Focus is interested in his musical, but what's his other project (presumably the one for Universal)? Well, he's actually working on a science-fiction film. Fukunaga wasn't kidding when he told us, "I would ideally want [a career] with as much diversity in my work as possible" (when you see "Sin Nombre" if you haven't already, you'll fully realize just how polar opposite a sci-fi film and a musical are to that picture).

TONY doesn't provide details on what the science-fiction film will be, so we hit up a close personal friend of the director who is also working alongside him and he says that the sci-fi movie will center on time travel. He also tells us the scale will be "big," but it will also be a "very human character piece that will transcend the genre. Cary has always been fascinated with time travel, but this will be an accessible story that people can feel emotionally."

Expect big and always-interesting things from this filmmaker. And go see "Sin Nombre" when it expands into your city.