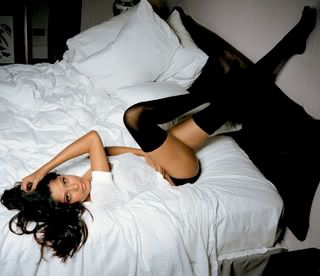 Don't get too excited because the source on this is UK paper The Sun and we all know they'll make up anything to move papers and generate clicks, but they're reporting Freida Pinto was invited to screen test for the next Bond flick. We're certain that right now it's much ado about nothing as The Sun goes on to chat up the Bond franchise handlers' interest in signing up "Slumdog Millionaire" director Danny Boyle, who's already publicly denied his interested in the franchise.

The Bond folks are said to have seen and liked Pinto already in the casting for "Quantum of Solace" but felt she was too young to be a Bond girl love interest. Amazing what a couple of years and a featured part in an Academy Award winning film will do for a girl.

Of course this is all just wonderful speculation as the next Bond movie is still only known as Bond 23 (one step ahead of "Untitled Bond Project"). It's not Woody Allen, but Pinto would make an excellent Bond girl.