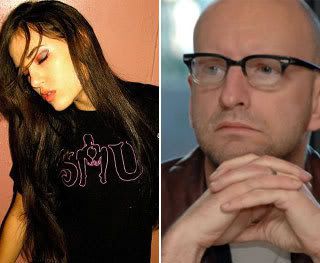 Steven Soderbergh's "The Girlfriend Experience" has an official release date and its May 22 via Magnolia Pictures (what we can safely assume will start out as a limited release).

The synopsis is easy: Porn star Sasha Gray stars as a high priced call girl who navigates her way through sex clients while maintaining a boyfriend who's well aware of what she does.. The down and dirty, low-budget film also has a cameo by film critic Glen Kenny (big ups to the BK neighb) as a sleazy porn writer and the picture is squarely set in October 2008, a month before the election and the economic crisis on everyone's mind.

The film already premiered at the Sundance Film Festival in semi-clandestine fashion (last minute screening that everyone knew about) and in keeping with its worst-kept-secret characteristics, it appears the film is totally going to play at the upcoming Tribeca Film Festival in May which Woody Allen's "Whatever Works" is opening. We've heard those rumors and the NY Post is reporting those as well. Seems like a fait accompli, which is fine with us cause we'd like to see it sooner rather than later. But let's see, Tribeca runs April 22-May 3, 'Girlfriend' opens May 22? Yeah, you can basically mark that one off in your calendar. It'll happen.

Also coming May 22 according to Indie Wire is Sam Raimi's "Drag Me To Hell," the Academy Award-winning Japanese film, "Departures" and Bruce McDonald's language-spreading zombie film, "Pontypool," and as previously reported, Jim Jarmusch's "The Limits Of Control."