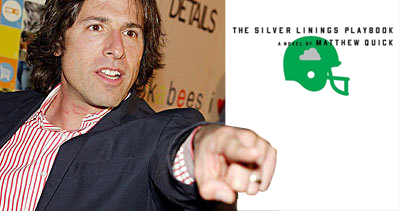 In February 2008, EW reported that indie director David O. Russell ("Three Kings," "I Heart Huckabees") had been tapped to write an adaptation of "The Silver Linings Playbook" for the Weinstein Company, just as he was preparing to go into production for his political satire, "Nailed," (that was financially maligned to say the least).

Now the Hollywood Reporter has responded with a story that... well, doesn't say much more than was already reported in early 2008. They says TWC is rumored to be backing the film for Russell to write and direct, but that TWC denied any comment (the only reason we're publishing this non-story is to remind people this story is way old and to point out THR's sort of lame story that adds nothing to the original report).

As we wrote last year, The 'Silver Linings' script is based on Matthew Quick's upcoming comedic novel about a delusional man who discovers his wife has remarried and moved on once he's been released from a mental facility after a nervous breakdown/collapse (there's also some meta-movie parts to the story, see the Quick link).

There's no word on whether 'Silver Linings' will be his next film. O. Russell was in talks last year to direct a Matthew McConaughey comedy called, "Grackle," but THR doesn't mention that either.