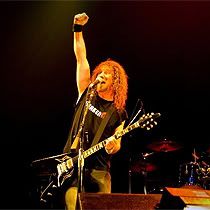 The documentary, "Anvil! The Story of Anvil," about underachieving '80s metal band Anvil is really taking off.

The film was only on three screens in New York and L.A., but it still bested "Hannah Montana: The Movie" in the per screen average numbers game. Over the weekend, 'Montana' raked in $32 million on 3,118 screens and 'Anvil!' took in $34,800 from 3 screens this weekend, so the better per screen theater average winner was the Sacha Gervasi-directed metal doc hands down ($11,600)

The film is slowly expanding too and is already set for many new markets. Film School Rejects has an excellent expansion list, but if you want to see the band play live after the film, hopefully you're in these five cities.
April 14 - El Corazon - Seattle, WA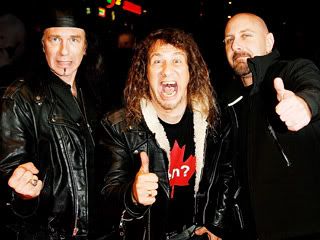 April 16 - The Palladium - Worcester, MA
April 17 - Trocadero - Philadelphia, PA
April 21 - Crofoot Ballroom - Detroit, MI
April 22 - Metro - Chicago, IL

For regular screenings without the band, the film expands into these cities shortly.
April 17 - Irvine, CA, Seattle, WA, Cambridge, MA
April 24 - Berkeley, CA, San Francisco, CA, Chicago, IL, Philadelphia, PA, St. Louis, MO, Detroit, MI, Portland, OR
May 1 - San Diego, CA
May 22- Washington, DC, Baltimore, MD, Atlanta, GA, Nashville, TN

Exactly how well is 'Anvil!' doing? Well, right now it's a phenomenon on a small scale level, but certainly within the industry the awareness is growing exponentially. The Village Voice puts the film's success in excellent perspective and calls the film a "Hoop Dreams" for metal heshers and says the Canadian band now in their '50s is currently enjoying a Mickey Rourke-like comeback.

Michael Moore

is a fan, as is

Keanu Reeves

.

Slayer

's manager signed the band,

Coldplay

's booker handles them in the U.K., and

Oasis

' liaison represents them in the States.

VH1

has acquired the exclusive rights to air Anvil! The Story of Anvil this summer. Random House

will release the Anvil book (November date in Canada, no U.S. date

yet

).

Rock Band

will soon have Anvil tracks. There's also an Anvil soundtrack deal in the works with major-label involvement [ed. tbd, but hopefully announced soon].

All this before the documentary has even entered wide release

. "This is the most famous we've ever been—ever—in our whole 30-year history," Anvil drummer

Robb Reiner

admits, awestruck. "With what's coming, with all this, I think the dildo will return."
"We're a documentary about an obscure Canadian metal band for Christ's sake and we've already broken the record for the highest grossing rock documentary in the U.K.!," Sacha Gervais marveled in disbelief to

The Playlist

. "It's insane." It is, and it's hopefully only going to get better for the band and director.