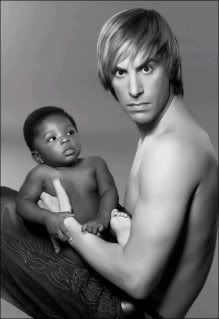 "How do you defend yourself against a man with two dildos."

The first trailer, an international version that's age-gated, for Sacha Baron Cohen's "Brüno" has hit. Oh man. Ha, there's plenty of footage we've seen from at SXSW (Brüno with his baby on the reality show), but still tons of scenes that none of us have seen before including the Brüno character in the Army, hunting with red necks, at a mall with an S&M submissive and much glorious more. "Brüno" has been slapped with an NC17 rating so far, but many are suspecting that's just another publicity ploy to build more buzz for what seems like a very intensely outrageous picture that has upped the game from, "Borat."

When we saw 20 minutes of footage at the South By South West Film Festival, we wrote, "Brüno" was seriously uncontrollably funny, and with a dangerous subversive and transgressive bent that will smash the limits of UNPC-ness and will surely outrage people. We died laughing and everyone in the theater did as well. "Borat" the film doesn't have a lot of staying power, but it was riotously hilarious on the first viewing and "Brüno" looks like it will do the same only with an even more aggressive bent of social satire.


One would assume that Cohen would try and one-up his wicked, near Machiavellian culture pranksterism, but one never assume he could never mount such a militaristic successful tet-offensive on his previous work."

Universal has provided this very-wrong, but very right and hilarious black and white photo of Bruno and his adopted African baby in the film. We've already posted most of the plot details which you can read here, but basically a disgraced Brüno fucks up his TV gig when he ruins an Italian fashion show, so he comes to the U.S. and gets into all kinds of crazy shit (not unlike the "plot" of "Borat")

And on a personal note, Rossini's "The Barber of Seville" (which soundtracks part of the trailer) is one of our all-time favorite classical pieces. As previously reported the music was written by Cohen's brother, Erran Baron Cohen and he's listed in the credits. The film is due in theaters July 10, 2009.