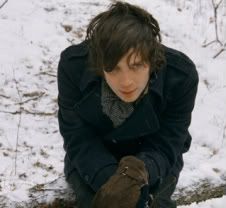 For years now, Broken Social Scene founder Kevin Drew has expressed a the wish to converge his cinematic ideals and his musical output. He started in 2003 by co-directing a good chunk of his indie-rock collective's videos with partner George Vale.

So not surprisingly he's made further good on this promise by directing a short film (in the style of a music video) set to Feist's "The Water" that stars Leslie Feist, Cillian Murphy and Canadian actor David Fox.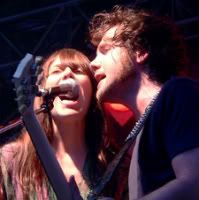 IFC and Pitchfork have teamed up, with consideration from Revolver Films, to deliver the premiere.

What makes it a short film and not a music video, you ask? Drew himself refers to it to Paste Magazine as a "musical poem" and that's a fairly adept thing to call it. There's almost no dialogue - in fact Murphy tells IFC he agreed to shoot it without even having a script to refer to and it's not clear if there ever was one. Murphy says, "What appealed to me most about it when he told me about the idea [was that he said] this is going to be for all intents and purposes a silent movie. I think there are like four words of dialogue in the film, and I love that, the fact that you've got to act or convey emotion, just silently."

In a making of video interview available on Pfork, Drew explains he wanted to cast Murphy opposite Feist and let their exceptionally expressive eyes do all the talking. So, mystical concept involving suspended animation and a mummy plus "silent film" surely equals experimental movie, right? It would seem so - Drew's icy world creates a nice dynamic in the middle of a song about water, making an interesting parallel about the water-ice-vapor trifecta that lie alongside the mother-father-son relationship in the film.


Meanwhile, Drew apparently briefly considered killing Feist in the making of the film. He tells Paste, "What I wanted was for them to go into the water. Leslie has so much spirit, God bless her, she was like, 'OK, I'll do it—give me a wet suit and I'll go in, but she would have died from hypothermia and I would have probably had a hate list the size of Canada, so we didn't do that."

Drew hints at moving on to full-length features after this and from what we can see that's not a bad idea at all. Murphy tells IFC he has ideas a brewin', "I think he's got lots of movie ideas and he was an unbelievably natural director. I know he'd done a couple of Broken Social Scene videos, but this was something different, this is a little short film and he just got it. And from talking to him and Leslie, it's like he's been making and writing films in his head for years. I was so amazed by his ability to understand the way it all works. It took me a long time to grasp the nature or the language of film and he seemed to have it just naturally and that's a real gift I think, particularly for a director, so I'd love to work with him again."

The film is available online for one week only, so watch it while you can.

Embed removed because its autoplay was annoying everyone, including us. Check the links above to see the short film.