Those knowing tastemakers at the Criterion Collection -- the achingly cool film snob DVD imprint house that lovingly re-releases repackaged "important classic and contemporary films" for other film nerds and cinema dilettantes -- are at it again and have released their schedule for July.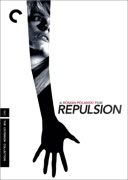 "Repulsion" - Released July 28
Hitting July 28 is Roman Polanski's classic surrealist, psychological thriller, "Repulsion," where the director (enjoyably?) tortured a comely and then 20-year-old Catherine Deneuve in his first English-language film. It would be his first of three collaborations with British screenwriter Gérard Brach (they also collaborated on "Cul-De-Sac" and "The Vampire Killers").

Here's their synopsis: Roman Polanski followed up his international breakthrough 'Knife in the Water' with this controversial, chilling tale of psychosis, starring Catherine Deneuve as Carol, a fragile, frigid young beauty cracking up over the course of a terrifying weekend.



"The Human Condition" - Released July 14
July 14 will see the release of Japanese director Masaki Kobayashi's marathon-long epic trilogy, "The Human Condition" which threatens to test the wills of even the most dogged and masochistic cinephile with its 574 minute length (That's 9.5 hours for the arithmetically challenged). This beast is naturally four discs long. The film is about a pacifist that has to face and endure the fascism and oppression of WWII and it might as well be the director's personal story as Kobayashi was a well-known pacifist who was drafted into the Imperial Japanese Army during World War II.

Synopsis: Masaki Kobayashi's mammoth humanist drama is one of the most staggering achievements of Japanese cinema. A raw indictment of its nation's wartime mentality as well as a personal existential tragedy, Kobayashi's riveting, gorgeously filmed epic is novelistic cinema at its best.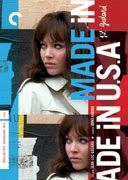 "Made In U.S.A." - Released July 21
The Criterion Collection are no dummies and even though, "Made In U.S.A." and "2 or 3 Things I Know About Her," are relatively minor and not-so-relatively unenjoyable didactic and self-indulgent slogs in the Godard cannon possibly best suited to the cost-effective Elipse series, they're very aware that there are enough Godard doormats out there to warrant individual releases. We suggest you rent these before you run out and own them. Essentially companion sister pieces, both films were actually shot at the same time, which is understandable given their similar elliptical and nonsensical political rhetoric qualities (though 'U.S.A' is superficially a crime thriller), but we recommend the susurrant technicolor resplendence of "2 or 3 Things I know About Her" (look for all the qualities Todd Haynes aped for the Heath Ledger scenes in "I'm Not There") over 'U.S.A.' which is only really notable for its Marianne Faithfull cameo (singing "As Tears Go By") and the fact that it was Godard's last full-length collaboration with his muse Anna Karina. Both films are however more enjoyable than the aggressively difficult Marxist-wannabe nonsense that is "Le Chinoise" (pretty, but that's about it).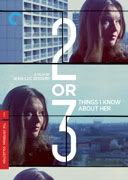 Synopsis: Like a Looney Tunes rendition of 'The Big Sleep' gone New Wave, this chaotic crime thriller and acidly funny critique of consumerism features Anna Karina as the most brightly dressed private investigator in film history, searching for a former lover who might have been assassinated.

"2 or 3 Things I Know About Her" - Released July 21
Synopsis: In 2 or 3 Things I Know About Her, Jean-Luc Godard beckons us ever closer, literally whispering in our ears as narrator. About what? Money, sex, fashion, the city, love, language, war: in a word, everything.

Also coming in July is Al Reinert's 1989 documentary "For All Mankind" (He wrote "Apollo 13," "From the Earth to the Moon"). Naturally the documentary follows the 1969 space race that ended when the U.S.'s Apollo 11 landed on the Moon in July. 'Mankind' is the story of the twenty-four men directly involved, using their  own words and archival footage. And apropos, the film features the otherwordly music of ambient godhead Brian Eno from the gorgeous 1983 album Apollo: Atmospheres & Soundtracks which was practically conceived as a soundtrack to the film before it was even a twinkle in anyone's eye.