Wow, after spending years in development hell, the Mark Wahlberg-led project "The Fighter" is finally set for production.

While the film has been somewhat of a revolving door for Hollywood's leading stars with director Darren Aronofsky, Matt Damon and Brad Pitt all having been attached at one point, 'Fighter' will now be helmed by David O. Russell with Wahlberg being joined by Christian Bale, according to Variety. Relativity Media is producing with Paramount's role now being reduced to distribution. Deals with Bale and O. Russell are still being worked out however (so don't consider it 100% just quite yet, but it's on track).


'Fighter' tells the story of 'Irish' Micky Ward, a junior welterweight boxing legend from Massachusetts and his half-brother/trainer/former boxing champion Dickie Eklund. Ward is perhaps most famous for his trilogy of fights against Arturo Gatti with the first fight between the two hailed as the 'Fight Of The Century' and the 9th round in that fight lauded as 'Round Of The Century.' Ward has also won the 'Fight Of The Year' awards three times (two of which for his fights against Gatti) a feat only surpassed by greats such as Muhammad Ali.

As a native of Massachusetts where Ward is a working class hero, Wahlberg has been been greatly passionate about the role. Despite the film's lack of progress in the past, Wahlberg has consistently worked towards it's production: "It's too depressing to talk about. I get up everyday at 5:00AM to train for a movie that might not even happen. It's depressing," he said in October of last year.

Wahlberg said in June 2oo8 that he had already been training on the film for two years at that point. "I'm ready. I want to look like a champ, not a chump...I want to do [Ward] proud. The guy did everything I wish I could have done. He came from nothing, went on to win the world title with all the odds stacked against him." With all this preparation behind him, it will be interesting to see how Wahlberg fares after his mostly lackluster efforts of late.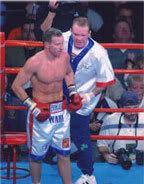 Bale, meanwhile, is set to play Dickie Eklund, the role previously held by Pitt and Damon (Pitt dropped out in October of last year). Eklund was himself a boxing world champion before forfeiting to a life of drugs and crime. He later seeks redemption in training half-brother Ward.

We did a a lengthy and detailed script review late last year and are stoked to finally see this grow legs, but are honestly a bit shocked to see O. Russell at the helm here. Wahlberg and O. Russell previously worked together on 2003's "I Heart Huckabees" and 1999's "Three Kings" while the actor and Bale are set to team for the upcoming "The Prisoners." Hmm, could it be that this whole set up for 'Fighter' was orchestrated solely by Wahlberg? Production is set to begin in July. O. Russell has been on an insane tear these days having been already slated to direct the romantic comedy, "Aaron & Sarah," and write and direct an adaptation of the bizarro comedy,"The Silver Linings Playbook." As for the political satire, "Nailed" that suffered from repeated mid-production shut downs? More on that hopefully soon.

P.S. David O. Russell and Christian Bale? The possibilities are pretty damn interesting, no?