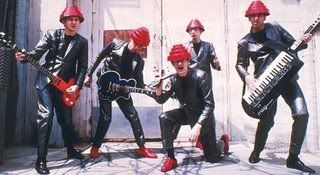 Spudheads all over the world know the underrated New Wave legend Devo never really went away, in essence- in addition to founder Mark Mothersbaugh scoring several films from "Rushmore" to the upcoming "Cloudy With A Chance Of Meatballs," the band has had several projects in the pipeline. Working on and off through the mid-nineties and new century, they reformed in 2007 for a new single, and now claim to be working on an album set for release next fall. There's also the theory that, as a movement, Devo claims de-evolution came true, a theme struck during many shows played during the Bush era.

It looks like after the band has conquered the music world, they're moving towards the film world. In an interview with Flavorwire.com, bandmember Jerry Casale confirms that now it can be told: a movie based on the career of Devo is in the works. Working with Rolling Stone writer Matt Diehl, Casale claims the movie has taken the form of what sounds like a traditional biopic formula...
From the interview...
"I'm working on a first draft of the early days of Devo movie with Matt Diehl, a writer for Rolling Stone. It's about Devo in the sad, sad Akron days beginning in 1974. It shows the truth, which is stranger than fiction, where, against all odds, and totally whacked-out, this art band goes from being this hopeless joke everyone laughs.. to synching up with the new wave and punk movements… It goes all the way through to where we get signed and try to start our first tour and get the deal to go on Saturday Night Live. The movie ends there, although there's a coda or postscript that takes place in 1980 when "Whip It" is a hit, and everyone wants us to write another hit and meet with producers. There's also a prequel including the killings at Kent State. It's the probable journey and struggle to success, but the success is a question mark."
Casale first announced this film in a Spanish radio station interview in 2007 (mp3 here), under the title "The Beginning Was The End" . He claimed the goal was to get it in theaters by early 2008. Diehl was mentioned as the co-writer back then, and Casale referred to it as "'Spinal Tap' With Brains" but the project might have gone through more than a few permutations, especially considering a large portion of Casale's "De-evolution came true" argument in said interview revolves around the re-election of George W. Bush.
Download: Jocko Homo- Devo (Live)