In a move that will probably get them shut down faster than you can say cease and desist, Vulture has put up a scathing and hilarious "review"/slideshow of the unfinished and leaked "Wolverine" workprint that's being labelled as a funny, "15 Reasons Not to Download Wolverine," deterrent but let's face it, it's basically 15 reasons why you shouldn't bother with the film when it hits theaters.

20th Century Fox, who is doing damage control left, right and center will not be happy with this at all.

Vulture says you should wait until the film hits theaters to see it, but it's clear they're being dismissive. "Really, though, if they're concerned about piracy sinking the movie's opening weekend, they shouldn't be — anyone with eyes can tell you that the leaked version is unfinished, with missing scenes, placeholder music, and tons of hilarious half-rendered special effects. "

Still, that can't help at all. They write about the still above, "In keeping with the spirit of this World War I flashback, the explosion seen here was rendered exclusively using technology available in 1918." Funny stuff, but it can't help the negative press that has already suggested even in finished form "X-Men Origins: Wolverine" is going to be unsalvageable.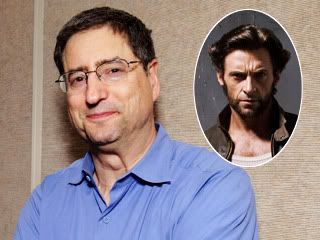 Meanwhile, in an exclusive interview with EW, Fox chairman Tom Rothman has been trying to do his own damage control spin.

"The version that went out is unfinished. It's about 10 minutes shorter, doesn't have key scenes, it wasn't edited, and none of the effects shots were in any remotely final form," Rothman tells EW. "It's a complete misrepresentation of the film and is deeply unfair to the people who have worked on it for years."

While we think this project has looked dumb from minute one and was probably rushed during the writer's strike, this is every studios nightmare and we don't wish this on our worst enemies. Downloading is bad for everyone in the movie industry -- look how it's irrevocably decimated the music industry, so any blogger, journo, movie-related person who wants to earn a penny in there lifetime and make a career out of this should hope they found a way to stop it.

Rothman continues. "We, like everybody, thought our system was secure. Just like I'm sure there are lots of banks that get robbed that thought their vault was safe. We thought the post-production pipeline was secure at every juncture. But, obviously, it's self-evident that it wasn't. I have a high level of confidence we'll find out where the lapse in security was and we'll bring the perpetrators to justice."


Many have already speculated that this is either payback for the Warner Bros. "Watchmen," lawsuit or simply just because of the way the Fox studios press department behave (apparently difficult to say the least, but to be honest, we have zero experience there as most of their films are big tentpole vehicles that we have little interest in).

Those who think the FBI being involved is an overreaction, might be right, but this is a billion dollar industry and at lot of jobs could eventually be at stake -- especially in this already shitty economy -- so you'd protect your work too if you knew the long term effects could crush you.

Apparently Hugh Jackman was crushed when he heard about the leak. It'll be interesting to see how this story continues to play out in the media, but honestly, we kinda think "Wolverine," is fucked. It's too bad, because it should fail on its own merits or lack thereof if that's the case.

"Hugh was heartbroken and hurt when he found out," Rothman said. "He's lived with this thing for 10 years. But he's also a man and knows that life isn't fair, and is more determined than ever. Hugh and I exchanged e-mails: Basically, we're not going to let the bastards win. But we didn't use the word 'bastards.' That's a slightly sanitized version."