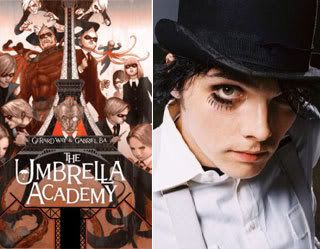 Universal Pictures have set in motion an adaptation of "The Umbrella Academy," a comic series by My Chemical Romance frontman, Gerard Way. The project will be the first in a three year deal between the studio and Dark Horse Comics, home of Way's comic.

While news of the film's development was previously announced by Way himself, the comic will now be adapted for the screen by writer Mark Bomback ("Race To Witch Mountain","Live Free Or Die Hard"). While no director is currently attached, Way has expressed interest in doing it himself (after wishfully name dropping Alfonso Cuaron and being pre-emptively rejected): "Directing is something I'd be really interested in. People ask me if I would act, but acting to me is not nearly as exciting as directing would be - I'd definitely be interested in directing features. After this record cycle I'd be really interested in trying something like that."

"The Umbrella Academy" tells the story of a group of superheroes who must unite and carry out the world-saving plans of their deceased father, an alien disguised as a famous entrepreneur. Although we have doubts over the project's quality due to Way's use of his fame to start it, the comic has apparently been earning rave reviews.